Tibetans craft seat of honor for Dalai Lama
By Michael Paulson, The Boston Globe, April 17, 2009
Will use throne on visit to region
Boston, MA (USA) -- In the basement and driveway of a humble Malden house, the carpenters are building a throne.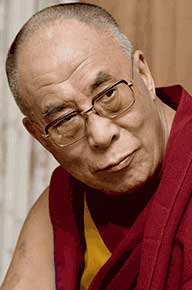 Across town, in Medford, a lab technician spends his nights sewing embroidered silk for the drapery.
Three Tibetan-American men, two of them former monks, have devoted much of the last month to constructing the 9-foot high chair on which a cross-legged Dalai Lama will sit for a pair of lectures at Gillette Stadium next month.
The resulting throne is the most visible manifestation of the efforts by Boston's small Tibetan community to prepare for the Dalai Lama's four-day visit to the region, which begins April 29. But the throne also sheds light on the unusual backstories of local Tibetans, many of whom escaped difficult lives in Tibet or lived in exile in India before arriving in the United States.
The needleworker, Kunga Namgyal, leads the ordinary life of a research scientist at Shire, a biopharmaceutical company. But Namgyal is also the son and grandson of famed Tibetan tailors - his father was a tailor for the Dalai Lama - and now, at night, when he can steal time from playing with his son and dining with his wife, he sits on the floor by a china cabinet filled with Buddha statues and tries to remember what his own dad taught him about sewing.
One gem: While conventional sewing often involves pointing a needle away from the artisan, Tibetan Buddhists sew with the needle pointing toward themselves, to symbolize compassion for others who won't get poked.
The financial backer of the $5,000 throne, Lobsang Paljor, was a farmer and nomad in Tibet who in 1985 became a monk there; he fled to India in 1987 and in 1991 moved to the United States. After six years selling carpets, he started Tibet Construction Inc. in 2000.
The carpenter, Kunga Lhatse, plied his trade in Lhasa before escaping to India and then moving in 2002 to the United States. He now is a member of Paljor's 12-man crew.
"For me, his holiness, the Dalai Lama, represents Tibet," Lhatse said, via a translator. "He is like a teacher or a parent."
The Dalai Lama, the recipient of the Nobel Peace Prize, is the spiritual and political leader of Tibetan Buddhists and leads a government in exile from Dharamshala, India. Also called Tenzin Gyatso, the 73-year-old lama is believed by Tibetan Buddhists to be a reincarnation of previous Dalai Lamas; he is the 14th man to hold the title.
The throne is a conventional element of the stages from which the Dalai Lama teaches about Buddhism to large crowds. When he gives a more conventional lecture or meets with scholars, as he will do at several events in Boston and Cambridge before the Foxborough sessions, he sits in a chair.
"In our religious tradition, you show respect to your teacher, and that's why he is put on the highest pedestal," said Lobsang Sangay, coordinator of the Dalai Lama's visit to Boston and also a research fellow at the East Asian Legal Studies Program at Harvard Law School.
Often institutions hosting the Dalai Lama borrow a throne from another community, but the Boston-area Tibetan community, now thought to number about 600, saw itself as mature enough this year to construct a throne. After the Dalai Lama's visit, the chair is intended to be a central element of a local Tibetan heritage center that the community hopes to construct in the area.
The throne is made of hand-carved teak - there is a single gold throne, in Lhasa - and the one built for Boston has carved into it the eight "auspicious symbols" of Buddhism: images of a parasol, fish, vase, lotus, conch, knot, wheel, and victory banner. The silk drapery features an image of a dorje, a small scepter traditionally associated with Tibetan Buddhist lamas.
"The Dalai Lama has been to Massachusetts several times, but this is the first time the Tibetan Association of Massachusetts is hosting it, and that reflects that we are now more organized and capable," Sangay said.
The six previous visits have been hosted by local universities and interest groups, he said. "For many of us, it is like a lifelong dream coming true, to be able to host your spiritual and temporal leader."