Buddhism lecture supports animal rights
By Siri Carlson, Luther College Chips, April 23, 2009
Decorah, Iowa (USA) -- As both a dog-trainer and a practicing Buddhist, Visiting Assistant Professor of Religion Scott Hurley combines two important aspects of his life when discussing animal rights.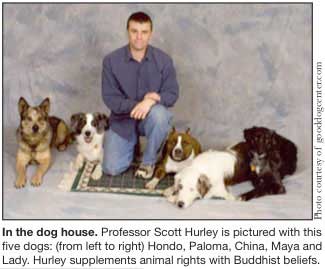 In his lecture "Animal Dharma: Problematizing the Buddhist distinction between Human and Non-human Animals," Hurley used Buddhist tradition to supplement animal rights discourse, but also used animal activism to critique certain aspects of Buddhist tradition.
He argued that although the Buddhist approach does not seem to distinguish between differing forms of sentient life, the tradition does actually privilege human being over other living beings.
This contrasts with two main tenants of Buddhist belief—the belief in impermanence and dependence of "self."
"Human beings exist in an impermanent and dependent way," Hurley said. "We aren't separate and distinct from all other things. Distinctions between self and others are not hard and fast."
He draws on work by activists Peter Singer and Tom Reagan as well as discourse from feminist and anthropological animal activism to supplement Buddhist teachings.
"It's only been at the beginning of this academic year that I've thrown myself into literature outside Buddhism on this issue," Hurley said. "Where I think Buddhism can enter into the conversation is in the area of self-reflection and seeing how language is empty of permanent meaning."
Hurley went on to explain how taking on a different view about all living things can deconstruct a person's ego.
"It makes you become more aware of how your own attitudes towards yourself and others contribute to exploitation," Hurley said. "So then you work in a social context to right social wrongs."
Hurley became interested in Buddhism both academically and as a practitioner as an undergraduate student at the University of Arizona. He took classes in East and Southeast Asian religions and practiced meditation.
"I found that I had a real affinity for the practice of meditation and the world views made sense to me," Hurley said. "Studying them from an academic view has been good because it's kept me critical."
Hurley draws his beliefs from both the Chan, or Chinese Zen, and Thai traditions.
His love for dogs also began in Arizona after he adopted a two year-old dog, which then gave birth to nine puppies. His care for animals continued once he arrived in Decorah.
Through The Good Dog Center in Decorah, he became interested in training and showing dogs and met Carmen, the owner of the center. They married last year. The two both teach obedience and competition classes at the Good Dogs Center and have 12 dogs between them.
"I ended up spending so much time with these animals," Hurley said. "They have played an important role in my life."
His work with dogs led him to think about and study the issues of animal rights in connection with Buddhism. "It just made sense to bring them together," Hurley said.
"Some animal rights activists hold that we should not have pets at all," Hurley said. "Personally, I think there is a distinction to be made between wild and domesticated animals. Dogs have been bred to work closely with human beings—that's part of who they are."
Hurley sees this work extending out and becoming an important part of both his academic and religious life.
"I am hoping to write as both a scholar and a practitioner, both to be critical of tradition but [to] also bring elements of tradition into this conversation," Hurley said.