Distinguished Buddhist instructor presents 'Meditation in Daily Life'
by Matthew Willis, Battle Creek Enquirer, January 8, 2010
Battyle Creek, MI (USA) -- "In today's fast-paced world, it's hard to take a moment for ourselves there's so much to do, and so many distractions demanding our time.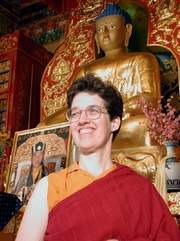 << Lama Kathy Wesley
The practice of quiet sitting meditation, based on techniques more than 2,600 years old, can help create a place of quiet and rest for us in the busy world. If practiced regularly, meditation can bring a sense of health and well-being, and give us insight into the ways we unnecessarily complicate our lives, providing us with an avenue for change." — Lama Kathy Wesley
Lama Kathy Wesley, a former journalist from Ohio who spent three years and three months of her life in strict retreat, will teach about meditation in daily life during a free public talk at 7 p.m. Friday, Jan. 22 in the Valentine Room of the Burnham Brook Community Center, 200 W. Michigan Ave.
Sitting meditation can be frustrating for beginners, but with the teachings and advice of Lama Kathy and daily practice, it can help bring joy and peace of mind, said Art Curtis, a member of the Battle Creek Karma Kagyu Study Group hosting the event.
"This kind of thing helps me start the day off right," he said.
During the event, Lama Kathy will explain the history of meditation and offer participants a unique opportunity to participate in a brief meditation session, followed by discussion.
Event coordinator and study group member, Matt Willis, said he appreciated Lama Kathy's ability to explain complex spiritual teachings in a way that applies to the stresses of daily life.
"We are all looking forward to her visit," he said. "She is so friendly and approachable. Her talks are very downto-earth."
Lama Kathy attained her honorific title by undergoing traditional Tibetan Buddhist training in upstate New York at the Karme Ling retreat center and has spent more than 30 years in study and practice.
She is a spiritual guide for the Battle Creek Karma Kagyu Study Group and leads the Columbus Karma Thegsum Chling Meditation Center in Ohio as its practice coordinator.
The Battle Creek study group welcomes anyone who is interested in learning more about sitting meditation or Tibetan Buddhism to join them on Wednesdays from 7 to 7:40 p.m., followed by a reading and discussion from 8 to 9 p.m. The small group currently meets in the private home of a member.
"You don't have to be Buddhist to come sit with us," Willis said. "We welcome people of all faiths."
Contact Mary L. Connors, outreach coordinator, at (269) 599-2891 or visit the group's Web site at BattleCreekKagyu.org for more information.