Dalai Lama Makes 6th Visit To Madison Area
Channel3000.com, April 5, 2005
New $3M Buddhist Temple To Be Completed September 2006
MADISON, Wis. (USA) -- The spiritual and political leader of the Tibetan people will visit Madison in September 2006 to bless a new $3 million temple. This is the Dalai Lama sixth visit to the area, News 3 reported.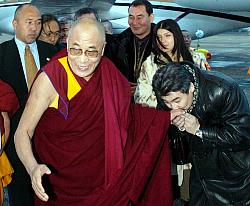 Construction on the temple in Deer Park Buddhist Center is set to begin next month, News 3 reported. It will replace the current one built in 1981 for Buddhist students and the growing Tibetan community.
Deer Park, located just east of Oregon, is known as the spiritual center for Buddhists in Wisconsin.
On a winding path, the original temple has served as the home for people learning Buddha's teachings, but the Buddhist leader who founded Deer Park in 1979 says it's time to serve the growing community of students.
"The temple is old and too small," said Geshe Lhundub Sopa .
Sopa is not only the founder of Deer Park, but an internationally recognized Buddhist scholar and UW professor emeritus of the Buddhist studies program. It has long been his dream to serve more people in a larger temple. ( See Plans For New Temple )
"Now I am seeing the possibility to very much close to a built temple, so I'm very excited," Sopa said.
Sacred writings enshrined at the original temple, including the Bible, and 100 volumes of Buddhist teaching, will be moved to the new temple when it's completed in fall, 2006.
The Dalai Lama, who last visited four years ago, has agreed to bless the new temple when he visits.
Longtime Buddhist students are excited because their new spiritual home will combine western-style construction with traditional Tibetan architecture -- details down to the stone that resembles what was used in Tibetan temples. Sopa's students all over the world are helping to make it happen.
"People are now beginning to be interested to donating and helping," Sopa said. "I think now we will be able to build."
Building on a rich Tibetan history and serving local students of Buddhism and almost 500 Tibetans who have settled here.
At some point during the construction, Tibetan artisans will arrive at Deer Park to supervise and guide creation of Tibetan ornamentation and carpentry. The site has been blessed and is ready for the ceremonial groundbreaking.
Appropriately, the groundbreaking will be held on Earth Day, April 22.