Buddhist priest to walk Keystone XL pipeline route
By Rachael Ruybalid, WORLD-HERALD NEWS SERVICE, Sept 2, 2012
YORK, Neb. (USA) -- A Buddhist priest has been traveling in Nebraska this summer as she prepares to walk part of the route of the Keystone XL pipeline as a protest.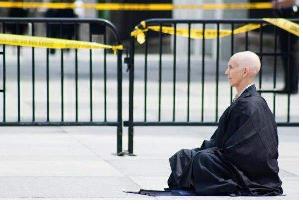 << Buddhist priest Shodo Spring sits in silent protest of the Keystone XL pipeline at the White House in Washington, D.C, last summer. Spring was arrested during the protest. Spring is planning to walk the stretch of the pipeline route from Canada through Nebraska next summer.
Last summer, Shodo Spring went to Washington, D.C., to protest TransCanada Corp.'s Keystone XL pipeline. She sat in front of the White House and was arrested while wearing her Buddhist robes.
After the protest, she returned home to complete her six months of monastic training.
As part of the training, she sat in a monastery, staring at the wall and meditating.
About two weeks into her meditation, she saw something.
"An image cropped up of me walking on the pipeline," Spring said. "It persisted, and it grew details. Sometimes I saw hundreds of people, and sometimes I was alone."
She talked to people about what she had seen, and they encouraged her to do the walk.
"Because I've had the vision, not to do it would be wrong," she said.
At first, Spring thought she would walk the entire length of the pipeline from Hardisty, Alberta, to Port Arthur, Texas.
After realizing how far that was, she decided to instead walk the distance from Alberta to Steele City, Neb.
She has been traveling around the route in Nebraska this summer, talking to landowners about her walk and the reasons they're opposed to the pipeline.
She knows that by the time she does the walk next summer, legal decisions on whether the pipeline will be built will already have been made.
She can still bring awareness to what she thinks are the dangers, she said.
"The purpose is to change consciousness or to activate people who are environmentalists who are saying, 'We can't do anything about this,'" Spring said.
Spring said it probably won't be possible to walk the exact route. She and others who walk with her will most likely be taking county roads as close to the route as possible.