Buddhist nun returns to Missoula for public teachings
The Missoulian, February 02, 2013
Missoula, Montana (USA) -- Ven. Robina Courtin will return to Missoula next week to teach at Osel Shen Phen Ling, Missoula's Tibetan Buddhist Center.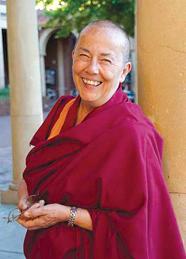 << Ven. Robina Courtin
Courtin was ordained as a Tibetan Buddhist nun in 1977 and since then has been traveling and teaching around the world. She has served as the editorial director for Wisdom Publications, the journal Mandala and she founded the Liberation Prison Project. Courtin has also led pilgrimages to Buddhist holy sites in India, Nepal and Tibet.
In Missoula, Courtin will teach a variety of topics called "Understanding Buddhism," which are integral to Buddhist investigation and practice. These teachings will be suitable for anyone, Osel Shen notes, whether they are merely interested or practicing the Buddhist path.
The teachings will begin on Tuesday, Feb. 5, with an examination of the Buddha's first teaching of "The Four Noble Truths" and continue each evening through Friday, Feb. 9. All presentations will take place at 7 p.m. at 441 Woodworth Ave.
On Saturday and Sunday, February 9 and 10, Courtin will teach from 2 to 4 p.m., also at 441 Woodworth. Anyone is welcome to attend any of these events. There is no charge, although a suggested donation of $15 per session to cover expenses will be appreciated.
On Tuesday, Feb. 12, at 7 p.m., Ven. Robina will join the Rev. Peter Shober of University Congregational Church for an interfaith dialogue to discuss "Interfaith Understandings." This is the third time Courtin and Shober have joined to have this type of discussion. Speaking from Buddhist and Christian perspectives, they will explore issues of emerging inter-spiritual realities and the hopes and fears surrounding these movements. This event takes place at the Missoula Public Library at 301 E. Main St.
For a complete schedule and more information, visit fpmt-osel.org.