Buddhist retreat set for Saturday and Sunday at Edwards Riverwalk
Vail Daily, Feb 13, 2013
Vail, CO (USA) -- Venerable Tenzin Priyadarshi will lead a weekend retreat on some beloved verses widely read by Buddhists and non-Buddhists alike.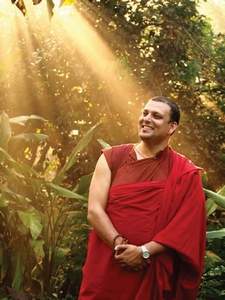 The Dhammapada is part of the Pali Canon and captures the philosophical and practical essence of the Buddha's teachings. Attendees will contemplate how these simple, yet profoundly deep, verses demonstrate the power of the human mind in shaping their lives and happiness. The retreat will consist of commentary on this text, meditation sessions, time for questions and answers and prayer.
The event is by donation. All are welcome, but space is limited. Chairs are available, but bring your own cushion if you want to sit on the floor. RSVP to Ben Gaylord at 970-390-9299 and sign up online at www.bodhimarga.org.
Priyadarshi is the president of The Prajnopaya Institute and Foundation, a worldwide humanitarian organization. He is the founding director of The Dalai Lama Center for Ethics and Transformative Values at the Massachusetts Institute of Technology, www.thecenter.mit.edu.
He was ordained by His Holiness the Dalai Lama, his spiritual mentor, and has received instruction and training under many great Buddhist teachers. He teaches around the world, in the spirit of the nonsectarian Rime tradition, in Russia, Mongolia, Indonesia, Thailand, India, Japan and Mexico.

If you go ...
What: Venerable Tenzin Priyadarshi leads weekend retreat focused on the Dhammapada.
Where: Riverwalk Hall in Edwards.
When: 10 a.m. to 4 p.m. Saturday and 10 a.m. to noon Sunday.
Cost: By donation.
More information: RSVP to Ben Gaylord at 970-390-9299, or sign up online at www.bodhimarga.org.