Longmont Buddhist Temple honors founders in wake of changing membership
By Whitney Bryen, Times-Call, June 14, 2014
Longmont, Colorado (USA) -- With the future of Longmont's Buddhist Temple resting on a new generation of members,the families responsible for its foundation are looking to Japanese traditions to guide them through the change.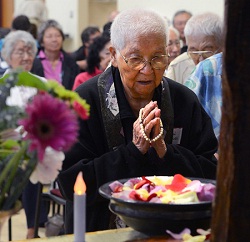 << Sumi Mayeda prepares to scatter rose petals during the ceremony. The Longmont Buddhist Temple held a traditional service and luncheon to honor the temple founders on Sunday. For more photos and a video, go to www.timescall.com. Cliff Grassmick / June 8, 2014
"When I was small, mom always taught me of the word 'sonomama,' which means 'as it is,'" said Jane Kanemoto, who has attended services through the temple since she was a little girl. "You accept life as it is, daily and this is how we believe."
Kanemoto's mother and father-in-law were part of a group of Japanese families in Boulder County that began meeting in one another's homes for services and socializing in 1925. In 1929, the group constructed a one-room hall in Lafayette for monthly services and events.
Kanemoto, 86, and her husband, George, along with his brother, Jim, carried on their parents' legacy, moving the services in 1968 to an old school house at the corner of Highway 287 and Pike Road in Longmont where the temple still meets most Sundays.
For decades, temple members included mostly the founding members and their families - Japanese immigrants that sought a place to cherish their heritage and practice their customs. But in 2005, the membership dynamics shifted when Carol O'Dowd was brought on as the temple's reverend.
O'Dowd is the temple's first non-Japanese reverend. Though her services follow traditional Shin Buddhism principles that focus on accepting things as they are, O'Dowd has attracted new non-traditional members.
Membership has grown significantly at the Longmont Buddhist Temple, and includes a mix of caucasian and Japanese families, O'Dowd said.
Buddhist and other zen practices, like meditation and Yoga, have become increasingly popular among residents of Boulder County and nationwide during the past decade, member Meredith Hutmacher said.
Mainstream zen practices coupled with the integration of Japanese Americans into Christian religions and an aging generation of immigrants are creating a modern version of Buddhist churches nationwide, Hutmacher said, making it more important than ever to honor the founding families and values that the temples were built on.
Last weekend, the Longmont temple held a special service to honor the remaining members of the founding families.
"They're getting older and there aren't many of them left," Hutmacher said. "If we didn't do it soon, there might not be any of them left to honor."
Kanemoto was among 16 members, the children and grandchildren of the founders, recognized during the service, which was held at the Longmont Senior Center to accommodate a larger crowd.
Members of the Mayeda, Miyasaki, Furulye, Matsuda, Fukaye, Kanemoto, Kawano and Shimoda families and others who have joined the temple were presented with Nenju beads, Buddhist prayer beads, during the service, which focused on the Buddhist principle of gratitude.
O'Dowd led several chants during the service and members sprinkled flower petals on the ground to spread the fragrance, "something small and solid that touches the lives of so many," O'Dowd said. Petals replaced burning incense that is typically used during services in the temple but was not allowed at the Senior Center, she said.
"It was a rare and precious opportunity to say thank you for those who made it possible to be here," O'Dowd said. "They're helping us be who we are, and we're better people because of them."
Longmont resident Sumi Mayeda, whose family was part of the temple's founding, said the service was an appropriate way to remember her family.
Mayeda, 83, and her husband, George, 87, do not attend services as often as they used to since George became ill, she said. The couple are the last of the Mayeda family who are members of the church since their children do not attend Buddhist services regularly despite being raised in the church, Sumi Mayeda said.
One of her children changed religions and attends a Christian church with her family, Mayeda said. The others don't attend any services regularly but do help at the temple occasionally, she said.
Kanemoto also raised her children in the temple, but only one of her three children still attends regularly, she said.
Many third-generation members of the founders have veered from the temple, some attending different religious services with their families and others straying from regular attendance at any church, Mayeda said. But the temple's remaining Japanese members said they are confident that the Longmont church will continue to thrive with its new members.
"I imagine they are better Buddhists then we are because they chose to be here," Mayeda said.
"We came because our parents took us but these new, white members have done their research and came here because they believe in these principles," she said. "It gives me hope for the future of this place, even after all of us are gone."