Buddhist monks, Navajo children meet at exhibit
By Abe Handler, The Durango Herald Staff Writer, June 22, 2005
Buddhist monks, Navajo children meet at exhibit. Durango, Colorado
Durango, Colorado (USA) -- This week, after placing more than a million grains of colored sand into an intricate painting, eight visiting Buddhist monks will sweep away their work.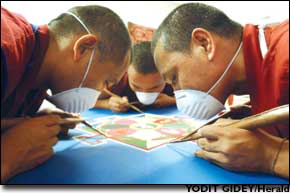 << Tibetan monks working on a sand painting at the Center of Southwest Studies at Fort Lewis College on Tuesday are, from left, Lobsang Tengye, Lobsang Tenzin and Jampa Tsering. The group from the Monastic University in Gaden Shartse, in southern India, has been on tour since September. The monks will present special programs at the Center of Southwest Studies through Thursday.
Guests of the Center of Southwest Studies, the monks will drop a few grains at a time to craft a large mandala painting representing a Tibetan Buddha of compassion. Then, at a public ceremony at 5:15 p.m. Thursday in the center's gallery, the monks will destroy the mandala, remembering Buddha's teaching that life is transient.
This visit, from members of the Gaden Shartse Monastery in rural southern India, complements the center's summer-long "Circle of the Spirit" exhibition. It highlights similarities and differences between Navajo and Tibetan philosophies for living.
Many of the exhibit's guests Tuesday were children from the Navajo Nation attending science camp at Fort Lewis College. At the gallery, the youngsters joined other campers and area children for hands-on demonstrations where the young artists made small sand paintings of their own.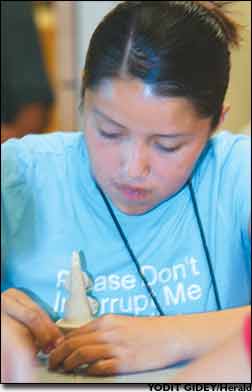 Lydia Herbert, 12, of Teec Nos Pos, >>
Ariz., works on an offering cake with a basic design during a workshop with touring Tibetan monks on Tuesday. The forms are usually made with butter, but the students used barley flour. Herbert is attending a science camp at Fort Lewis College.
Familiar with Navajo sand painting, Nicolette Parrish, 13, from Kayenta, Ariz., still had trouble with the Tibetan technique. "It's hard because in Navajo tradition they don't use any tools," she said, directing sand with a paper cone onto her own small mandala. "It's much harder with tools."
But Evonne Yazzie, head counselor at the camp, liked the monks' metal-cone methods. She said she would speak to her uncle about trying it for Navajo paintings.
Meanwhile, Lobsang, a monk born in Fort Collins, guided the hands-on exhibition. "We're happy to see the children follow their own path," he said.
Lobsang added that Navajo paintings usually depict different subjects than Tibetan mandalas. But "it doesn't matter which religion you are," he said. "These systems are methods for transforming negative minds."
Heather Study of Bayfield came to observe the mandalas and ended up taking the monk's message to heart. "I'm exploring different religious options and Buddhism is one of them" she said.
Anthropologist and co-curator Peter Gold also was present Tuesday. The exhibition, he said, spoke to "members of dominant societies desperate to know how to live a balanced life."
Gold lauded Navajo and Tibetan cultures for surviving "violent experiences with dominant colonialisms" from the United States and the People's Republic of China.
But Susana Jones, pursuing a bachelor's degree in Southwest studies and heritage preservation at FLC, wasn't thinking of politics.
The teachings of the Navajo and the Buddha "are so uplifting," she said. "It's not just a viewing exhibition," she said. "It's a real experience because I feel things."
If you go...
"Circle of Spirit: Navajo and Tibetan Wisdom for Living" is an exhibit of special programs with Tibetan monks. The program will be at the Center of Southwest Studies through Thursday. Here?s a summary of remaining events:
Today and Thursday: watch the monks craft a Tibetan sand painting.
10 a.m. Thursday: traditional music and dance followed by questions and answers.
1 p.m. Thursday: traditional music and yak dance.
4 to 7 p.m. Thursday: open house.
5:15 p.m. Thursday: Sweeping up of the mandala accompanied by music and chanting.