Garden of 1,000 Buddhas in Arlee to host Festival of Peace on Saturday
By TALIA KNUDSEN, Missoulian, July 28, 2005
ARLEE, Montana (USA) -- There are no vacations for those who pray for peace, a volunteer at the Ewam Magadha Garden of 1,000 Buddhas said during a hot, dusty afternoon of work earlier this week.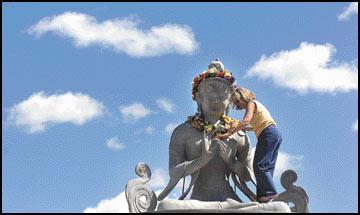 << Nadine Wisniewski, a volunteer in the Ewam Magadha Garden of 1,000 Buddhas, places floral adornments around the statue of the Great Mother, Prajinapamita, on Tuesday in preparation for the Festival of Peace planned for Saturday.
Photo by KURT WILSON/Missoulian
And with the garden set to host its first nondenominational Festival of Peace on Saturday, there are not even many respites - so many are the tasks to be accomplished.
Saturday's festival will feature musicians, artists and speakers from the Missoula and Mission Valley areas. It will be co-hosted by Tibetan Lama Tulku Sang-ngag Rinpoche; the Ewam Buddhist Sangha, an international Buddhist group; and the Jeannette Rankin Peace Center.
The Ewam Magadha Garden of 1,000 Buddhas is part of a 60-acre property north of Arlee that Rinpoche, a Tibetan native, purchased five years ago.
When complete, it will be a 600-square-foot circle with 1,000 Buddha statues. The centerpiece will be a 23-foot-tall concrete statue of the Great Mother, Prajinapamita, who represents peace and wisdom, Rinpoche said.
Surrounding it will be waterfalls, 1,000 trees and 1,000 stupas - small shrines with holy objects in them, said Georgia Milan, a Florence physician who is helping to organize the festival.
The garden is being built by visitors and volunteers, and is expected to cost between $500,000 and $1 million.
But why Arlee?
The mountains, plants and climate of Montana reminded Rinpoche of his homeland.
Passing through Arlee, Rinpoche said, he saw the "auspicious configuration" of the mountains surrounding the town. He saw an open lotus blossom with jagged mountains here and rounded mountains there for petals and recognized it as an important sign. Soon after, a piece of land where he envisioned the garden was advertised for sale.
The garden will be a "power spot" for the North American Buddhist community and anyone who wants happiness, an end to suffering and world peace, Milan said.
Saturday's Festival of Peace will be open to all, Rinpoche said. If more people come, the festival will generate powerful collective thoughts of peace, leading to a more potent surge in the direction of world peace, he said.
"Everyone wants peace," Milan said, but not everyone agrees on the "skillful means" of achieving it.
The festival is not a protest, Milan said, but a celebration based on something every human wants.
"We aren't anti-war," she said.
Shane Clouse, owner of the Pink Grizzly in Missoula, has three close friends in Iraq and his father is a World War II veteran. He supports the military and the protection it offers the United States, he said, but nobody wants war.
He agreed to donate $259 worth of flowers to the festival after another organizer, Erin Brown, approached him and passionately explained its purpose. Clouse believes in the festival organizers' cause, and "I believe in people," he said.
On Tuesday afternoon, the flowers were draped around the Great Mother's neck and head as volunteers planned the festival below.
Rinpoche has invited friends and teachers from across the country to the festival, he said, and he hopes thousands of people attend.
This year, the festival was put together on slightly short notice, but local and national artists wanted to be a part of it, Milan said.
Even on such short notice, the festival's lineup is diverse, representing all corners of the world. It includes Ana Vidovic, an internationally acclaimed Croatian classical guitarist; Andre Floyd, an acclaimed blues guitarist and singer; David Boone and Friends; Fireflies; Spent; and Squeeze the Breeze, a Celtic band.
There will also be Tibetan Thangka painters, African dances accompanied by the Unity Dance and Drum group and performances by Sunset Singers, an all-female American Indian drum group; belly dancer Kelli Neumayer; and Tibetan singers. Brian and Star Jameson will lead dances based on sacred Buddhist phrases, professor Samir Bitar and professor Dale Harvey will talk about and recite poems of peace, and representatives of the Salish, Pend Oreille and Kootenai peoples will also attend.
Neuromuscular integrative action exercises will be offered, and vendors and nonprofit organizations will set up booths.
Off limits at the festival: alcohol, glass and pets.
Peace in Arlee
The first Festival of Peace at the Ewam Magadha Garden of 1,000 Buddhas will be held from 2 to 9 p.m. Saturday. To get to the garden via U.S. Highway 93, drive east for half a mile on White Coyote Road, about two miles north of Arlee. The address is 511 White Coyote Road. Donations will be accepted, and a portion of the proceeds will go to the Jeannette Rankin Peace Center and the Ewam Magadha Garden of 1,000 Buddhas. For more information, call
(406) 726-0217.