Buddhist leader goes the distance
By Mike Sandrock, for dirt | Tuesday October 25, 2005
FEATHER LAKES, Colorado (USA) -- As I run through the "Valley of Death" on this warm August morning, I was glad to have Sakyong Mipham Rinpoche, Misty Cech and several other runners a step ahead of me. We were running on a dirt road winding through pine forests and lush meadows in the rolling hill country northwest of Fort Collins, heading toward the finish of a 50K run that would end at the Great Stupa at the Shambhala Mountain Center.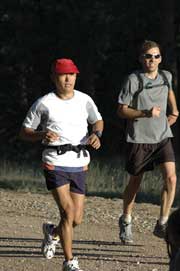 Sakyong Mipham is the renowned teacher and spiritual leader of the international Shambhala community, and, since the publication of "Turning Your Mind Into an Ally" in 2004, a best-selling author. He has also turned into a serious marathoner since taking up running just over three years ago, as I found out during this run.
It was the inaugural Great Stupa Run, and there are tentative plans to hold a shorter trail race at the mountain retreat next summer.
"I enjoy running," the Sakyong (an honorary Tibetan term meaning "Earth Protector") said as we started out just past 5 a.m. "We wanted to do a race longer than the marathon distance before New York. But the schedule did not work out, and we decided to hold our own 50K."
On Nov. 6 in New York City, the Sakyong will run his fourth marathon, in part to raise money for the Konchok Foundation, which wants to rebuild a monastic and education center in Tibet's Surmang Valley. Cech, a local yoga instructor and naturopath, as well as an excellent runner, will accompany him in New York, along with her husband, Eric, and training partners Nick Trautz and Jon Pratt.
Sakyong Mipham, 42, has a personal best of 3 hours, 9 minutes in the marathon, which he ran in Edmonton last year. He also has completed California's Big Sur Marathon and the venerable Boston Marathon. The Sakyong is well-known in Boulder because of his position as head of Shambhala and because his father, Chogyam Trungpa Rinpoche, founded Naropa University and is credited with helping bring Tibetan Buddhism to the West.
On this long morning run, we are not talking about Buddhist spirituality, however, but rather running and writing. Listening to him speak, it is clear that Sakyong Mipham is a spiritual leader for the 21st century, someone with centuries of Tibetan Buddhist teaching and traditions behind him, yet well-versed in the modern world.
He is even a Broncos fan.