Group spreads appreciation of Buddhism
by Bhagavathy Umamaheswar, Kansas State Collegian, February 6, 2006
Manhattan, Kansas (USA) -- The K-State Buddhist Association is a small but growing student organization. The group, established last October, has members who said they try to appreciate and reflect on the Buddhist doctrine through the study and practice of Buddhism.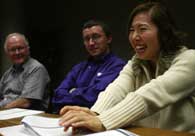 << Mariko Price, graduate student in education, laughs during the K-State Buddhist Association meeting Jan. 2 in the K-State Student Union. The group will meet again Feb. 16 at 5:30 p.m. in the Union.
Catrina Rawson/Collegian
"There are so many churches in Manhattan but no place where I could pursue my spiritual practice of Buddhism," said Mariko Price, graduate student in curriculum and instruction and group founder and president.
Price, a native of Japan, said she wanted to set up an organization where local Buddhists could gather regardless of their denominations and discuss spiritual and religious issues.
"Essentially, I was looking at setting up a group which would foster ecumenical thinking, nurture Buddhist spirit and encourage people to express their perspectives and ideas on various topics," Price said.
The group, which began as a member of the committee on religion, was set up with the assistance of Donald Fallon, coordinator of religious activities in the Office of Student Life.
Fallon listed reasons for the importance of such an organization on campus.
"It helps people of Buddhist faith to carry on their private meditation and spiritual development," he said. "It also provides the group a sense of community and finally, it exposes Americans to Buddhism, which is a world religion."
The association has about 20 members from Japan, Korea, India, Brazil and the United States. The organization is open to K-State students, faculty and staff, as well as Manhattan residents.
The group has bi-weekly meetings in the K-State Student Union during which members from various denominations meet and express their opinions on subjects like happiness, karma, anger and meditation.
This week, members discussed excerpts from the book, "The Art of Happiness," authored by the 14th Dalai Lama and Howard C. Cutler. The book has citations from the Buddhist doctrine with advice that is accessible even to those unfamiliar with Buddhism.
Christina Hauck, associate professor of English, serves as the faculty adviser for the organization.
Hauck said goodness and kindness exist in all human beings. She made a reference to the concept of causation and how one good deed leads to another.
"Infants come into the world as little bundles of demands, and as we grow up we crave for love and support," she said. "When we are loved, we readily share it with people."
The discussion also centered on readings from the book, which discusses how human nature is essentially compassionate and gentle. Members said they believe characteristics like anger, violence and aggression are superficial and not part of the underlying nature.
Richard Marston, professor in the Department of Geography, broached the topic about the state of happiness in human beings being governed by external factors. He also talked about mental discipline.
"We cannot prevent emotions like anger and resentment, as they are but human," Marston said. "But when such feelings plague you, stop and don't let them overpower you. Empty your mind and let go."
Another member, Marina Pecar, assistant professor in the College of Architecture Planning and Design, spoke about the transience of negative emotions.
"Emotions aren't real," she said. "Put them in the sun, in the rain and in the wind and they'll fade away. Time is a healer."
Members discussed different remedies for anger and stress. Price said every time she gets angry, she tries to get down to basics and find out what caused the anger. Hauck also discussed how meditation slowly helps diffuse agitation.
The group has many plans for the semester.
Besides its bi-weekly meetings, which begin with meditation and chanting of mantras — sacred verbal formulas repeated in prayer — Price said she hopes to organize a joint meeting with the Buddhist group from the University of Kansas.
The group also plans to have a lecture series by Buddhist leaders from surrounding cities and prayer sessions with sand mandalas — ritualistic geometric designs symbolic of the universe that are used in Buddhism as an aid to meditation — by Buddhist monks.
The next meeting is scheduled for 5:30 p.m. Feb 16 in the Union.