Finding faith in the High Country
by Caramie Schnell, The Vail Trail, April 19, 2006
Avon, CO (USA) -- Ben Gaylord sits cross-legged on a meditation cushion, head bowed, hands resting on his knees. Nearby sits his prayer book, called the Pecha. He is focused and silent. He is meditating.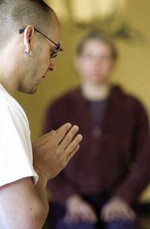 << Buddhist Eric Lavigne meditates at the Mountain Lotus Yoga space. Lavigne heads up regular meditation classes (open to all) Monday's and Wednesday's from 8 – 9:15 a.m.
Ben Gaylord didn't go to church every Sunday growing up. His father, a doctor, was agnostic. His mother was a universalist. Around five years ago, Gaylord began considering what he calls some larger-life questions: What does life mean? Why are we here? And where do we go when we die?
"Essentially, there's this idea of what is life all about," he said. "I work, I have a family, I go to sleep every night and wake up everyday, but I felt there has to be something more than this."
Gaylord had been interested in learning more about meditation when he ran into a friend that had been practicing. That same friend introduced him to the Shambala Buddhist Center in Boulder. Soon after, he found out about The Summit Dharma Center (now called Bodhicharya Colorado), a Tibetan Buddhist community based in Fairplay. He connected with the group at the weekly Wednesday evening class here in Vail.
"From there I started doing retreats and more meditation, it just kind of took hold of me and blossomed," Gaylord said.
When he and his wife remodeled their house, he built a shrine room dedicated to meditation, for himself. He meditates nearly everyday, he said, and as a result he said he's become more tolerant and compassionate of others.
"(Meditation) is like exercise, at first you have to be diligent, then after awhile you get over the hump and you want to do it more and more, it becomes enjoyable," he said. "Sitting on the cushion is where you make the biggest strides to get your mind calm, because when your mind is calm, you see things differently."
Lynn Ross-Bryant, a professor of religious studies at the University of Colorado at Boulder, has been teaching a book called "Spiritual Marketplace" this semester in one of her comparative religion courses. The idea behind the book is that many people nowadays are moving easily from one religion to another – essentially shopping for spirituality, she said.
"The term spiritual has become an important part of what I study now," Ross-Bryant said. "The term was too vague 10 years ago, but it's clear that that word is an important self-identification word for many people today."
More and more, people are hesitant to call themselves religious, she said, because they see it as being something authoritative and institutional. In contrast, the term spiritual relates to their inner quest, their own journey where they are in charge, rather than some outside authority, she said.
Jesus meets Buddha
Religion in America really began to change in the '60s when people began to question authority in general, Ross-Bryant said. People started to embrace the idea that they could choose their own religion, rather than just practice the faith passed down by their parents.
More lenient immigrant policies also had an impact, she said.
"Asian people and teachers started coming into the states and brought in Eastern religions that hadn't been here before," she said. "There were gurus around that would teach meditation – that was new."
More Americans are taking practices and teachings from a few different religions and combining them.
"Maybe you're Methodist but practice Buddhist meditation," she said.
Local Presbyterian pastor Rob Wilson is familiar with this trend, he said.
"It's called pluralism. Especially in America, we're living in a world where the Jewish person and the Muslim person and the Christian person all can work in the same building and can coexist comfortably," he said. "People are adopting different practices from different faith traditions and synchronizing them together. We have a man who really would call himself a Buddhist, but comes with his wife to our church."
Wilson has also had some experience with members of his congregation who have come from a Buddhist background and are now Christian. In general, he said, he's seeing people who are moving from an agnostic world view to a world view of theism, which is faith in a god, though not necessarily one god.
The mountains, in particular, tend to draw people that are less likely to go to church, he said. He often hears the phrase, "I find my spirituality out in nature, while going for a hike or a walk," as a pastor in the Rockies.
Recreation and the active, outdoor lifestyle are important to many local residents. That passion can push out time for faith, or at least getting involved in an organized religion. That changes oftentimes for people once they start a family.
"What's quite common amongst people in our church is people who go 'You know we decided we better get going to church again, we hadn't been going since I was young and all the sudden I decided I wanted my children to have a moral base,'" Wilson said. "I think that also goes to the stage in life where people have skied and biked and go, what else is there to life?"
Wilson has had his own struggles with faith. He grew up Episcopalian, but became an agnostic in college.
"I was at that age where you have a lot of questions about the meaning of life and the existence of God and what kind of God that would be," he said.
Wilson considers that a questioning stage of life. People in that stage typically go to the most traumatic event in their lives and use that as ammunition against God and faith.
"I did that as well, my father died when I was young," he said. "First thing I went to was suffering. That question of why do good people suffer bad things? That was the intellectual part of agnosticism – If there was truly a God, why would he let us suffer?"
During a six-month college study tour of Central America, he had what he calls his "conversion experience."
"I was observing Christians who were living in extreme poverty but were incredibly happy people," he said. "It was me asking the question, why are these people so rich in life and poor in material things and I'm so rich in material things and poor in soul?"
That was the intellectual piece of the puzzle, Wilson said. The heart part, he said, was what he felt inside.
"I felt God's presence, his peace," he said. "I felt a personal encounter, that God had met me and that I could know God."
It wasn't long after that Wilson said he was called to the ministry.
Looking for the perfect fit
Pastor of Mount of the Holy Cross Lutheran Church, Carl Walker, doesn't see much turnover between different religions, but agrees that there's quite a bit of turnover within the different Christian denominations. For example, someone who was raised Catholic may try out attending a Luthern church, or an Episcopal church, in hopes of finding a faith that fits.
"Less and less, denomination is important to people within Christianity," he said. "People are much more likely to go to a church where their friends attend, or one that has a good youth program. Denominational loyalties are not as strong as they used to be. People used to be born, bred and buried in one denomination."
Now, people seem to feel more freedom, Walker said.
"It's very important for people to find a religion that is true for them and not simply true because someone told them it was," he said.
Growing up, Monday nights for Erik Vienneau meant catechism class – his local church's version of Sunday school. His family was Catholic, and though the teachings never resonated with Vienneau, he was confirmed in the Catholic church.
"A lot of people I talk to, their parents' religion, their grandparents' religion, doesn't really mean anything to them, they just do it because it's cultural, it's expected," he said.
After college, Vienneau started selling insurance.
"I was like, whoa, this is really what my life's going to be like?" he recalled. "It's all about money? The more money I got, I still didn't feel happy. And my religion didn't offer any real, lasting sense of peace."
While traveling in Asia, Vienneau got his first view of Buddhism. Intrigued, he started reading books on the Buddhist religion and soon after met his teacher, Gen-La Michael Gregory. Vienneau's been practicing Buddhism ever since and has attended two 30-day silent meditation retreats. He admits he first got into it because it was somewhat exotic and a little bit "underground" because the local Buddhists don't have their own meeting space (they use the Vail Interfaith Chapel). Now, Buddhism is a central part of Vienneau's life.
"This is where it's at," he said. "We're so much more than this body that gets in fights with our wives, doesn't like our boss or feels like I'll be happy when I make more money. There is something so much more beautiful inside."
Anne Menconi has tried a few religions on for size. She was raised Methodist, went through a stage where she joined a friend's Catholic church because she "liked the structure," and then became an atheist, she said.
After a traumatic period of time where Menconi had various friends and family members die, she started reading about different belief systems, including Hinduism, Buddhism and Christianity. Out of all of them, she said she related most to Buddhism.
"It allowed me to see God within everybody," she said. "I think our ego tends to get in our way a lot when we find ourselves different from other people or don't like something about somebody else. I really honestly believe in my heart of hearts that every single one of us has God, that pure essence of life, in our nature, within all of us and I just think it's based on circumstances of what you're born into and the type of physical body and treatment you get on a social aspect and that sort of thing that shapes us as to who we are."
Menconi most recently has gone back to a Christian base, she said. She's been attending services at a local non-denominational church.
"I think it's the ability to say I'm not in control," she said. "You'll never know what life is about – you can only dress up, show up and do the best you can and hope in your heart. I don't need to figure it out, I don't need to know the answers to life, aside from the fact that it's absolutely amazing that we sit here and are alive for a period of time. To me, I find the ability to be appreciative of things – whether it's food on the table or the fact that I live in a house, that I can walk outside without worry of being killed or raped. I live with so many privileges and I just feel like what's important for me is that I can be grateful for all the things, all the blessings that are provided in life and I have faith that when things happen, that's the way it's supposed to be."