Locals touched by seeing Dalai Lama
BY KIMBERLY NICOLETTI, Summit Daily News, September 18, 2006
Denver, CO (USA) -- Seeing the Dalai Lama on her 20th birthday inspired Breckenridge resident Rachel Bergstrom to learn more about His Holiness and Tibetan Buddhism.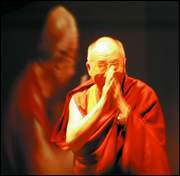 << His Holiness The Dalai Lama made a rare public appearance in Denver on Sunday at the Pepsi Center. The Dalai Lama was surrounded by jumbo screens - like the one in the background of this photo - as he gave a public talk and answered questions in front of the sold-out crowd.
Special to the Daily/Caroline Foley
"It was really interesting," Bergstrom said. "He was hard to understand, but that just influenced me to read more books and see movies about it. I liked how open he was."
The Dalai Lama spoke to a sold-out crowd of 14,634 at the Pepsi Center Sunday. The Mind and Life Institute, co-founded in 1987 by the Dalai Lama to further research between modern science and contemplative traditions, sponsored the event.
His Holiness began and ended his talk with his distinctive humor, which seems to emanate from a compassionate heart, spread throughout his entire body. As he rocked back and forth in his chair, laughing from his belly, the Denver crowd couldn't help but laugh as well. His humor is nonassuming - gentle and egalitarian.
"I am just one of you," the 71-year-old Dalai Lama said Sunday, after joking about his graying eyebrows and balding head.
He said he may have had different experiences from which he has developed "some ideas" about how to live compassionately, but it is "really true" that there is "nothing special" about him; that he is "a simple monk." In fact, he addressed some people's expectations about seeing him and gaining some special blessing or miracle power.
"They are totally wrong," he said without judgment. "And personally, I myself need some miracle power," he continued, pointing out his skin problem while itching the back of his neck.
After another bout of laughter, he told the crowd that everyone is born with the potential of warm-heartedness. His compassion, he said, stems from the love he received from his mother.
"The basis of the idea of compassion is a sense of care," he said. "This value is the foundation of a happy life."
When people begin to take life and kindness for granted, it creates more negative emotions, such as aggressiveness and anger. He talked about how a reliance on the external world, such as material possessions, often causes fear because "something is lacking inside." True contentment comes from love and compassion. Being truthful and treating others as brothers and sisters is important to reduce fear, he said.
Once again, he spoke without judgment, admitting, "Sometimes I lose my temper. Sometimes I don't have any compassion, but generally, I have quite a compassionate attitude." During the question and answer session, a woman asked for advice on how to raise her 10-month-old baby.
"I don't know," he said. "On a practical level, I have no experience - If the child is peaceful, then I can handle it. If not ... " - he alluded, with his hands, to wanting to shake the child. Then, in a light-hearted manner, he said, "Next question," as he and the crowd laughed.
Overall, his loving approach to the world guides him to always remain calm, even though outside circumstances fluctuate. A clear mental function allows a person to see the whole, long-term picture, which gives a full understanding of reality, rather than a narrow-minded look, he said.
"Look from various angles when negative emotion comes," he said. "Once you start unraveling the object - how it came about, what were its causes and conditions - (your narrow-minded) angle loses its very foundation."
He stressed the importance of reducing negative emotions and cultivating positive ones. He said being selfish is "quite natural" but he reminded people to act from "wise selfish rather than foolish selfish." The wise mind sees situations in an objective and realistic light and seeks to take care of others, which ultimately benefits oneself. The foolish mind acts only to protect itself, which ultimately causes more problems, he said.
"With a sense of compassion, we can build a better, happier world," he said.
"All world religions have great potential to stimulate these things, but for the general public, we need a more simpler way to generate these things."
His casual approach touched the crowd: Breckenridge resident Stephanie Bergstrom felt like the Dalai Lama was sitting in his living room, talking to her and everyone else. It put her in a dream-like, quiet state, she said.
Her husband, Jonathan Bergstrom, was touched by seeing the Dalai Lama when he came in 1993, and he wanted to bring his family back to experience His Holiness.
"I wanted to make an effort just to be in his presence," he said. "I was crying when he walked on stage."
Breckenridge resident Julie Colliton expressed a similar sentiment, saying it was an epic occasion to hear a man that is so revered talk about compassion and world peace.
After the Dalai Lama spoke, he said:
"So that's my talk. For my old friends, I apologize if I feel boring. Sorry. If it's the first time, then you may find some points of interest. Take them and experiment in your daily world, daily life. If you find it nonsense, then leave it. I'm leaving tomorrow (Monday) - so just forget it. No problem."
Since 1960, the Dalai Lama, leader of Tibetan Buddhism, has lived in Dharamsala, India, the seat of the Tibetan government-in-exile. Though he won the Nobel Peace Prize in 1989 and travels the world imparting his message of love, compassion and peace, he describes himself as "a simple Buddhist monk." In his daily life, he spends 80 percent of his time on spiritual activities and 20 percent on Tibet.
When at home, he:
- Wakes up at 3:30 a.m., beginning the day with prayers, meditations and prostrations until 5 a.m.
- 5 a.m., walks (if it's raining, he uses a treadmill).
- 5:30 a.m., eats a breakfast of hot porridge, barley powder, bread and tea, while listening to the BBC World News.
- 6-8:30 a.m., continues morning meditation and prayers.
- 9-11:30 a.m., studies various Buddhist texts.
- 11:30 a.m., eats lunch (while at home, he eats vegetarian; outside of Dharamsala, he doesn't always eat vegetarian).
- 12:30-4:30 p.m., discusses work with his staff or holds interviews
- 6 p.m., drinks evening tea (as an ordained Buddhist monk, he does not have dinner).
- 6:30-8:30 p.m., evening prayers and meditation.
- 8:30 p.m., bedtime.