Buddhist therapist offers June 23 seminar in Denver
by Laurie Anderson, YourHub.com, June 6, 2007
Dr. Parker Wilson will offer a June 23 seminar 'Buddhist Psychology, Mindfulness and Modern Psychotherapy'.
Denver, CO (USA) -- Dr. Parker Wilson, noted psychotherapist and teacher, will be offering a seminar on the topic of "Buddhist Psychology, Mindfulness and Modern Psychotherapy" on Saturday, June 23, 2007.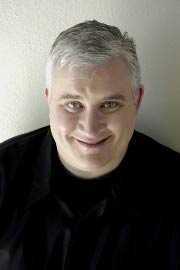 Dr. Wilson specializes in the treatment of psychological trauma, sexual and physical abuse, alcohol and substance abuse, grief and loss issues, and couples and family problems. Dr. Wilson has been a practicing Buddhist for 10 years. With his unique utilization of Buddhist psychology and mindfulness, he is particularly adept at helping his clients slow down, and create meaning, insight and penetrating wisdom from their difficulties and struggles.
In this intimate half-day teaching, he will discuss the basic tenets of Buddhist psychology and cosmology. Dr. Wilson will then offer instruction in the ancient techniques of mindfulness meditation, and a discussion will follow on mindfulness as a technique in psychotherapy and as an everyday tool for developing mental clarity and balance.
Dr. Wilson, a doctor of clinical psychology, has extensive experience in helping his clients more effectively deal with their difficulties in life by increasing their awareness of their own minds (their thoughts, feelings, memories, beliefs, perceptions, and judgments). "An increased awareness of thoughts and emotions serves to improve the quality of a client's life," he explains.
"Imagine how your work life, your family life and all your relationships would be affected if you had increased mental clarity, calm, stability, insight and balance," Dr. Wilson continues. "All of your words and actions begin as thoughts, feelings, judgments, opinions, beliefs, memories or perceptions. These are all mental phenomena; they belong to the domain of the human mind. In essence, then, everything you have ever said or done begins with your mind. Because this is so, when you become more aware of your own mind, when you learn to work with your thoughts and emotions (as opposed to just being hooked by, reactive to, identified with or "all caught up in" your thoughts and emotions), then your levels of stress, denial, anger, blame, anxiety, compulsivity and impulsivity naturally decrease.
"This is the basic level of mindful awareness from which psychotherapy and counseling will begin to positively transform your mind," Dr. Wilson added.
Another important aspect of Dr. Wilson's practice has to do with medical insurance. "Insurance companies are notoriously prohibitive when it comes to paying for psychotherapy and they often interfere with a doctor's treatment plan," he explains. "Insurance companies also have a history of breaching client confidentiality. Because confidentiality is paramount in the process of therapy, I believe that doing business with insurance companies is ethically unsound. Therefore, to strictly protect patient confidentiality and to ensure my own ability to properly treat a client's needs, I don't take medical insurance.
"Although my ethical stance against the modern health insurance machine does create a small inconvenience for some clients, the costs involved with my psychotherapy are very reasonable. If necessary, many financing options are available," Dr. Wilson added.
-----------------------
The June 23 seminar runs from noon to 4 p.m. and will be held at the Hampton Inn-DTC, 5001 S. Ulster St. Cost for the half-day seminar is only $50 ($40 for students and faculty). For more information on this unique seminar, please go to www.DrParkerWilson.com.
For more information on the June 23 seminar and on psychotherapy and counseling opportunities, please visit www.DrParkerWilson.com, call 720-335-3963 or email parker@drparkerwilson.com.