A spiritual connection
By Jeff Francis, Mile High News, July 25, 2007
Jefferson County Buddhists find each other
Jefferson County, Colorado (USA) -- Melissa Bennett moved to the Denver area from Los Angeles for "peace of mind." She said the culture of the city wasn't conducive to a important aspect of her life. "It's hard to be spiritual in L.A.," she said with a wry smile.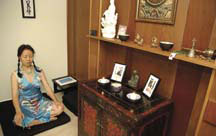 << Photo by EMILY MEHRING
Yulu Yuan meditates in a room at her home during a meditation session July 10. Jefferson County Buddhists have found a spiritual outlet through Buddhist meditation groups that meet in homes throughout the area.
Fortunately, Bennett has found a spiritual outlet in Jefferson County through a Buddhist meditation group. She and other teachers and practitioners of the Eastern religion gather in homes across the county to embrace Buddhist meditations and teachings.
Bennett's friends were concerned for her safety when they learned she went to Buddhist meditation in a stranger's Arvada basement that was advertised on Craig's List, she said. However, she said the group setting is safe — and ideal for her.
"There's a certain clarity when I do this in a group," she said of the meditation. "If I do it at home, I'm worrying about what the dog's doing, whether I should make that phone call or check my e-mail."
The place where Bennett meditates is owned by Paul Barnett, who works with mentally ill teenagers by day and hosts Zen Buddhist meditation by night in a Zendo, a meditation room, in his home.
"In the two years I've been doing this, I've probably had 30 people come in here," Barnett said. "Most of them come once or twice and decide it's not right for them."
Although raised a Christian, Barnett began embracing Buddhist teachings in college. Since then, he studied under Iowa instructor Winecoff Roshi. He has taken the vows to study and practice Buddhism, but is not a monk or priest.
Although Barnett does not offer Buddhist instruction at his gatherings, once a month he sponsors a guest speaker, the Rev. Cliff Clusin.
Most of Barnett's neighbors and co-workers don't know of his involvement in Buddhism, he said. Some of the reactions he gets from those who find out illustrate the difficulty of choosing a faith that's not in the mainstream, he said.
"There's a variety of responses because it's not the dominant religion," he said. "Occasionally I get some negative reactions, like it's not the right religion. Some people think it's new age, which isn't necessarily the case."
On the other end of the Jefferson County Buddhist spectrum is Dave Rodenbaugh, whose Sunday gatherings at his home do not include meditation. Instead he hosts lectures and philosophy discussions with instructor Gen-la Chokyi Dhakpa on speakerphone from India.
"We get a lot of curious people who are disenchanted with Judaism and Christianity," Rodenbaugh said of the roughly 10 visitors to his weekly groups. "There are a lot of people who come here a couple times and you never see them again, because our community emphasizes pretty serious and intense practice. Every year we have a 30-day retreat."
Whether the attendees of the Jeffco groups are hardcore practitioners or the curious and fickle, Barnett said that Buddhist enclaves such as his hold benefits for all attendees.
"People come here because meditation can be calming from a psychological perspective," he said. "In Zen Buddhism, we try to realize the ultimate nature of the universe, which will lead us to peace and compassion. How people choose to get there varies."
Meditation groups and classes
• Paul Barnett's Buddhist meditation group meets from 7 to 9 p.m. Tuesdays, with monthly lectures by the Rev. Cliff Clusin. Call Barnett at 303-817-1807 or e-mail dragonmountainzendo@msn.com.
• Dave Rodenbaugh's classes meet from 4:30 to 6:30 p.m. Sundays at 14194 W. Amherst Ave. Call Rodenbaugh at 303-665-2393 or visit www.summitdharmacenter.org.