Buddhist monks create mandala at Lentz Center
by Grant Gaston and Teresa Prince, NewsNetNebraska, November 9, 2007
Lincoln, Nebraska (USA) -- This week the normally quiet Lentz Center for Asian Culture,1155 Q St., hosted the construction of a Mandala sand painting for the first time since 2002.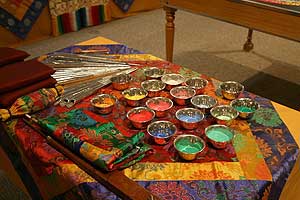 << Monks construct mandala from different colored sands. Upon completing the mandala it is destroyed to symbolize impermenance.
Photo: Lisa Munger, NewsNetNebraska.
The exhibit, which began Friday when Tibetan monks blessed the site by chanting sacred mantras, received a large and intrigued crowd throughout the five-day event.
"I'm Buddhist, so I really was happy that we actually had something big going on in the middle of nowhere," said Kendra Potts, who traveled from Omaha on Monday to observe the monks.
The eight monks spent 22 hours over a four-day period constructing the "painting," which was actually millions of grains of colored sand precisely placed on to a 5-by-5-foot table. The particular design they created this week was called the Amitayus Mandala. Amitayus is the Buddha of boundless life, and his Mandala resolves conflict, Monk Thupten Chossang said.
"We have been doing this one a lot since 9-11," he said.
The monks spoke very little during the construction, but always appeared to be enjoying the seemingly tedious process. The only noise that could be heard regularly was the sound of the monks scraping a small shovel across the tops of the chakpurs, or funnels, gently shaking the sand free and placing it in the appropriate place.

This is the second time monks from the Drepung Loseling Monastery have visited Lincoln. Chossang said they were happy to be in such a beautiful city with lots of open-minded people.
"It feels like we are at home," he said. "We're having a great time here."
Tuesday, after the Mandala was completed, the monks held the closing ceremony where the sand was swept into nothing more than a mound of colored grains of sand. The monks destroy the intricate pattern to symbolize the impermanence of life. Chossang said the monks are not sad to do this; they are just completing the representation of the circle of life.
Logan Maschmann, a University of Nebraska-Lincoln communications major, was one of many baffled by the whole process.
"To watch people put so much effort in to something, then destroy it, it's amazing," Maschmann said. "I wouldn't do it, but I guess I don't understand the situation fully."
At the end, some of the sand was packaged for souvenirs; the rest was released into Oak Lake so that the positive energy created by the sand painting could be spread to the world.