Buddhist monk to visit Eagle County
by Sarah Mausolf, Vail Daily, January 24, 2008
The Ven. Tenzin Priyadarshi teaches calligraphy this weekend in Avon

EAGLE COUNTY, Colorado (USA) -- In an age of rushing stock tickers and 24-hour news channels, some Americans face a dilemma — hung up on planning for the future, they fail to focus on the here and now.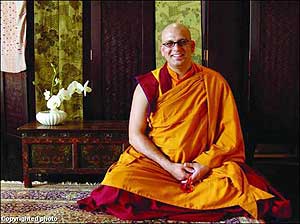 << Tenzin Priyadarshi studied calligraphy at age 14 as part of his initiation into the monestary.
Special to the Daily
"Most of the present just flies by," Buddhist monk Tenzin Priyadarshi said.
That's why Priyadarshi will focus a calligraphy workshop, public talk and retreat in the valley this weekend on the concept of "mindfulness."
What, exactly, is mindfulness?
"It refers to being in the present moment," Priyadarshi explained. "Generally when you look at the state of mind, either we are thinking about events that happened in the past or we are anxious about the future. Mindfulness is an exercise that allows one to become completely aware of the present moment."
To focus on the present, locals will turn to the ancient art of Chinese and Japanese calligraphy.
Students will gather in the Avon Public Library Saturday to learn simple characters and brush strokes.
"When we communicate, we tend to take speech for granted," Priyadarshi said. "In the process of doing calligraphy, you have to understand the implications and significance of a particular term."
In this case, students will learn how to write the words for "meditation," "dream" and "mind" or "heart," he said.
"The idea is to generate those qualities in one's mindset before putting it down on paper," Priyadarshi said.
After dipping a brush in ink made from plant pigments, students will create characters on what Westerners refer to as rice paper.
With a masters' degree in printmaking from University of Colorado at Boulder, Mackin Dolan is an expert at creating her own Japanese paper but the workshop will mark her first venture into calligraphy.
"I'm nervous because here I am this expert master printer so I am going to be right in there with a beginner," she said. "I'm starting from nothing. It'll be fun."
Mackin Dolan wants to learn how to make a nice brush stroke and reap the meditative benefits implicit in the process.
"Part of the reason people do it, from a Zen Buddhism point of view, is you forget about the self and your world and you're lifted up to a transcending realm," she said.
Calligraphy emerged in China around the seventh or eighth century, before the rise of Buddhism, Priyadarshi explained. Buddhist monks adopted the art as a form of training. In fact, Priyadarshi learned calligraphy from monks in Japan and Taiwan during his own monastic training.
Born in India, Priyadarshi entered a monastery at age 10. He trained in Japanese and Indo-Tibetan Buddhism in India and Nepal, and was ordained as a monk by the Dalai Lama. His epic studies took him to Harvard University, where he completed his graduate work in comparative religion in 2003. Presently, Priyadarshi, 29, serves as a chaplain for Boston's Massachusetts Institute of Technology.
In pursuit of mindfulness
In addition to the calligraphy workshop, the visiting monk will hold a talk tonight at the Vail Chapel Ministry Building in Vail. Following an introduction to Buddhist exercises on mindfulness, students will indulge in a brief meditation session.
To delve into the details, Priyadarshi will hold a two-day retreat at a private residence in Edwards.
Students will ponder objects like bread in pursuit of mindfulness, he said. They'll also apply the concept to loftier ideas like nature, life and death.
Ben Gaylord, a member of the local Buddhism group, will host the event in his living room. He said guided meditations will center on slogans like "in all action I will examine my mind and the moment a delusion arises, endangering myself and others, I will firmly confront and avert it."
"In a sense, you could spend the whole weekend on that one," Gaylord said. "They're very obvious but to actually gain experience from it, it takes some time. They're not quite commandments. They create more positive karma."
Roughly 30 people will gather at Gaylord's home for two days of teachings and vegetarian potluck meals.
"Being in the presence of Ven. Tenzin is always inspiring in itself," he said. "For such a young man, he's so wise."
If you go . . .

Japanese brush calligraphy
What: Vail Symposium's Japanese calligraphy workshop
When: 1 to 4 p.m., Saturday
Where: Avon Public Library, 200 Benchmark Road, Avon
Cost: $50; $40 for annual Symposium contributors. Brushes, paper and ink will be provided
For more information: Call the Symposium at 476-0954 or visit vailsymposium.org
Public talk
What: Buddhist monk Tenzin Priyadarshi to discuss "Mindfulness"
When: 7 p.m. Friday
Where: Vail Chapel Minisry Building, behind the Vail Interfaith Chapel, 19 Vail Road
Cost: Free
For more information: call Ben Gaylord at 390-9299
"Intro to Mindfulness Retreat"
What: Two-day teachings on mindfulness, guided meditation, food, question and answer with Priyadarshi
When: Saturday and Sunday
Where: 2100 Lake Creek Road, Edwards
Cost: $150 for an individual; $250 for a couple
For more information: Call Ben Gaylord at 390-9299
Reaping the 'meditative benefits'
One of those students will be Edwards resident Susan Mackin Dolan, member of a local group that studies Buddhism.