Vail Valley teacher to explore Japanese Buddhism
by Matt Terrell, Vail Daily, May 23, 2008
Stone Creek teacher Tara Goike will tour Japan and give her students taste of the culture
AVON, Colorado (USA) -- There are shrines and Buddhist temples in Japan that have been standing for thousands of years.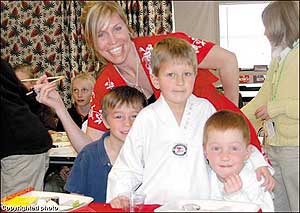 << Tara Goike, a teacher at Stone Creek Charter School, gives students a taste of sushi at their Japanese Celebration at school. Goike will be touring Japan this June and hopes to bring some Japanese culture back to her students. The kids actually liked the sushi, Goike said.
Special to the Daily
Tara Goike, a teacher at Stone Creek Charter School and a yoga instructor, hopes to bring a part of that ancient Eastern philosophy and tradition into her classes.
Goike was one of 160 educators chosen for a three-week visit in June to Japan through the Japan Fulbright Memorial Fund Teacher Program. She'll visit schools, meet teachers, stay with a Japanese family, tour the ancient sites and come back, ideally, with a better understanding of what makes their culture tick.
One of her main missions will be to learn more about Buddhism, which is a predominant religion in Japan. She wants to see if certain aspects of the religion could be something she could incorporate into her Yoga lessons.
"They definitely intertwine. You could bring it in through meditation, or the concept of 'do unto others as you would have others do unto you,'" Goike said.
Already this year she's taught her students at Stone Creek Japanese history, Japanese folk tales, shown them Japanese art and taught them some of the language. One of the first lessons she hopes to do next year is to have the kids start collecting relics of the United States and send them to a teacher she meets in Japan — sort of a cultural time capsule.
"We'll have the kids think of things that represent our culture and create a package to send over there," Goike said.
Goike will spend a lot of time visiting Japanese schools to see how differently classes there are run. Learning the language could be difficult, but otherwise, Goike isn't too nervous about the trip, she said.
The family she'll stay with actually lives in a ski resort town in Japan — Goikie's looking forward to comparing the mountain town life in Japan to our own.
Cindy Hester, another teacher at Stone Creek Charter School, was part of the Japan Fulbright Program last year.
One of the biggest questions Hester wanted to answer on her trip was how Japanese schools teach their students English — maybe they had some tricks that would help here in Eagle County, where teaching English is a daily challenge facing all teachers, she said.
Students don't spend as much time learning English as Hester had thought before visiting, and not as many people on the streets knew conversational English as she had predicted.
Students do learn a good deal of English, but lessons are centered more on grammar and testing as opposed to speaking, and everything is geared toward tests.
It's very likely that most Japanese students will read English and diagram sentences much better than they will ever speak it, she had said.
Hester did notice that foreigners learning Japanese as a second language in the schools were taught using many of the same techniques used here to teach kids new to English.
Goike said she's been getting a lot of tips from Hester on how to make the best of trip.
Buddhism in Japan
About 90 million people consider themselves Buddhists in Japan, and along with Shinto, Buddhism is the country's major religion. However, the religion isn't usually a major part of everyday life there.
The average person typically follows the religious rituals at ceremonies like birth, weddings and funerals, may visit a shrine or temple on New Year and participates at local festivals (matsuri), most of which have a religious background.
Many households keep a small house altar in order to pay respect to their ancestors.
— Source: www.japan-guide.com