A way of life
By APRIL MIDDLETON, Salina Journal, May 31, 2008
Salina, Kansas (USA) -- About 200 monks, including the high priest from Thailand, are in Salina this weekend for an annual meeting and the grand opening of The Buddhist Temple of Kansas.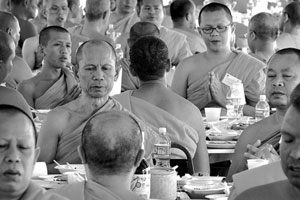 << Buddhist monks from across the U.S. and around the world chant a prayer of blessing for the people that brought food for them to eat during the 32nd annual meeting of the Council of Thai Bhikkus in the U.S.A. Saturday afternoon, May 31, 2008 at Wat Vidhesdhammarangsi, The Buddhist Temple of Kanas, west of Salina, Kan. (photo by Rodrick Reidsma / Salina Journal)
The temple, 2857 Pleasant Hill, was established three years ago and has eight monks. It has between 35 and 50 members who travel from across the state to attend, said Surina Chumsena, a member from Salina.
The annual meeting is held in a different city each year, said Thanat Inthisan, a monk from the temple Wat Thai Washington, D.C. Last year's meeting was held in Florida.
Salina was chosen this year because it is home to the newest temple. This is the 32nd annual meeting.
During the meeting, the monks gather to share experiences and learn from each other, Inthisan said. Monks from 87 temples are in attendance this year.
The meeting also drew Buddhists and other visitors from the area as well as from across the country and Thailand.
Monks began arriving Thursday for the three-day meeting, which concludes today with a celebration.
Inthisan said the number of Buddhists in America has grown significantly in the last three to four years.
"I think American people turn to religion or to new Eastern philosophy because, as you know, Buddhism is not so much a religion as it is a way of life of the people," Inthisan said.
Buddhism, he said, teaches people how to live a happy and peaceful life.
People who are interested in learning about Buddhism or learning to meditate are invited to contact the temple, Chumensa said.
"My goal is to uphold the traditions and pass them on to the next generation," she said.