Om on the Range
By David Frey, New West Network, July 29, 2008
How Colorado Became a Hub of Tibetan Buddhism
Aspen, CO (USA) -- When the Dalai Lama visited Aspen last weekend, he found out that while Colorado's Roaring Fork Valley is known for its glitz, it has another side -- an epicenter of Tibetan Buddhism, Western-style.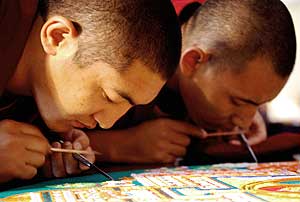 << Monks from Drepung Loseling Monastery work on a mandala sand painting as part of the Aspen Institute's symposium on Tibetan culture. Photo by David Frey.
As a coterie of security guards ushered the Dalai Lama from his Aspen, Colo., hotel room into his motorcade, he sent them into disarray when he approached the crowd gathered in front to share smiles, blessings and a little conversation. Those surrounding mountains reminded him of the home he left long ago in Tibet, he told them.
"Very beautiful," he says. "Mountains all over the place."
When the Dalai Lama appeared in Aspen last weekend, it was filled with plenty of only-in-Aspen sorts of moments. He met with likely Republican presidential candidate John McCain at a private West End home where McCain was also hosting a fundraiser. Speaking in front of an audience at the Aspen Institute, the first question from the crowd came from former Secretary of State Madeleine Albright.
There is another side to this place, though. Sure, Aspen is famous for its glitz, but the surrounding Roaring Fork Valley, and Colorado as a whole, is an epicenter of Tibetan Buddhism, Western style, and the Dalai Lama's visit tapped into that enthusiasm.
Prayer flags flutter from front porches here. "Free Tibet" bumper stickers flourish. Tibetan Buddhist meditation groups gather in homes and churches throughout the valley.
Colorado's ties to Tibetan Buddhism run back to the early 1970s, when Chögyam Trungpa Rinpoche founded the Shambhala Mountain Center, and later Boulder's Naropa University. Born in Tibet in 1940, he fled across the Himalayas to northern India in 1959 after the Chinese invasion. Trungpa turned on Colorado spiritual seekers to Tibetan Buddhism, and over the years, its influence spread.
"That was a time when there weren't very many lamas in America yet. With the exodus and diaspora of lamas, more started coming to the States," says Ed Bastian, who helped introduce Buddhism to the Roaring Fork Valley after meeting the Dalai Lama in India in 1970 while working on a documentary film.
"I came back to Aspen totally enthusiastic and ready to become a Buddhist," he says.
Plenty of others have shared his enthusiasm. Last spring when the Karmapa, considered the No. 3 Tibetan monk and believed to be a possible successor to the Dalai Lama's leadership role, held his first tour of the United States, Boulder was one of only three stops, alongside Seattle and New York. The little hamlet of Crestone has become an important center for Buddhist teachings.
Tibetan Buddhism has also gained a certain cachet from the area's mountaineers. They return from trips to the Himalayas with backpacks full of prayer flag souvenirs.
"Back in the old days, at least for me, you'd go to these places for the mountains," says Andy Crisconi, owner of One World Trekking, which leads groups on Himalayan adventures. "The more you go, and maybe it's the older you get, the cultural aspects of these trips are really more interesting and really what keeps people going back."
The Dalai Lama's appearance capped the Aspen Institute's "His Holiness the Dalai Lama at Aspen: A Celebration of Tibetan Culture," a three-day forum on Tibetan life, politics and culture. It came at a time When Tibet sits at the forefront of world attention. Pro-Tibetan demonstrations have raged inside and outside China as the upcoming Beijing Olympics focus attention on the country that seized Tibet and sent the Dalai Lama, like other key religious figures and thousands of Tibetans, crossing the Himalayas as refugees.
"It's a very opportune moment," says Kitty Boone, vice president of public programs at the Aspen Institute.
Seizing on the Dalai Lama's visit, other Buddhist organizations organized talks. The Roaring Fork Friends of Tibet hosted a group of visiting monks to perform rituals and offer blessings.
The Aspen Institute events sold out fast. Over 3,000 filled the Benedict Music Tent to hear the Dalai Lama. Interest was so strong, the institute even handed out tickets for the free lawn seats, and people waited in line for hours to snatch them up.
The Roaring Fork Valley isn't alone, though. Buddhism is flourishing in the Western world, even as its popularity wanes in parts of the East, and the Dalai Lama enjoys superstar status.
"Buddhism is a breath of fresh air," says Erik Vienneau, a spokesman for the Summit Dharma Center. "It really helps you to calm down and remember that clarity in your life. You can do all the things you do as a crazy American, but you do them a little saner."
During the first of two talks, the Dalai Lama took the stage as a western Colorado afternoon storm blew in, shaking the tent in which he spoke and sending the prayer flags fluttering throughout the grounds. During the second talk, he took to the Aspen stage wearing a white Tibetan scarf decorated by area children, seated underneath prayer flags also decorated by them.
If his message of peace and love resounded with the audience, though, Aspen's problems confounded him. It's easy for Aspenites to forget about the rest of the world, and while it may not quite amount to the rancor that burns between China and Tibet, Aspenites take their controversies very seriously. How, resident Susan O'Neal asked, could Aspen end its cantankerous ways?
"I don't know," the Tibetan monk said, laughing.
"Your responsibility," he said. "Not my responsibility."