Building a shrine room in Eagle County
by Sarah Mausolf, Vail Daily, Feb 9, 2009
An Edwards resident plans a meditation space in his garage

EAGLE COUNTY, Colorado (USA) -- In countries such as India, Tibet, Japan and China, it's common for Buddhists to build shrine rooms in their homes. People devote a room to meditation or, in the case of the lower classes, a corner of a room.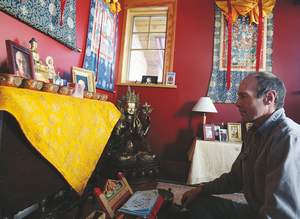 << Ben Gaylord sits in his small meditation room above his garage Wednesday at his home in Lake Creek. Gaylord is building a slightly larger meditation room in his garage designed to hold more people.
Dominique Taylor/Vail Daily
"The only difference that you might see between rich and poor people is the content of the shrine room," said the Ven. Tenzin Priyadarshi, a Buddhist monk who visits the Vail Valley. "Some might have wooden statues. Some might have gold statues."
Edwards resident Ben Gaylord plans to build a meditation space in his garage with Priyadarshi's help. A member of a local Buddhist group that studies under Priyadarshi, Gaylord, 52, plans to use the 9-by-20-foot space to further his spiritual practices.
"You kind of get to the point in your meditation where you want to do more than 20 or 30 minutes a day," he said. "And you want a space that is a conducive environment for what you want to do."
What makes for a "conducive environment" for meditation? Priyadarshi said the space should be devoid of distractions. Certain objects are common in shrine rooms, including:
• A cushion or chair on which to meditate.
• A statue of Buddha or other Buddhist figures.
• Pictures of teachers such as the Dalai Lama.
• Candles.
• Incense.
• Offerings such as food or money.
To help Gaylord prepare his shrine room, Priyardarshi has commissioned a bronze Buddha statue from an artist in India. Priyadarshi plans to bring the statue to Edwards this coming spring.
For Gaylord, the concept of a shrine room is nothing new. About seven years ago, he built a meditation space in a 10-by-10-foot room above his garage. Bronze statues of Buddhist figures sit on the floor while intricate tapestries adorn the walls. There is a space for burning incense, bowls for offerings and a prayer book.
Gaylord started getting involved in Buddhism about 10 years ago.
"I think in a lot of ways, like many people, I just felt like I was stuck and Buddhism showed up," he said.
Gaylord joined a Vail area Buddhist group called Bodhi Marga about three years ago. The group, which has about 35 members, receives teachings from Priyadarshi over video conference.
Before Gaylord built the first shrine room, he tried to mediate in a room where he builds cabinets for work.
"It was getting kind of dusty," he recalled. "At that time, I realized it probably wasn't the best spot. I would see unfinished business and that would become a distraction."
Shrine rooms have been a part of Buddhist culture for a long time. Priyadarshi said they originated in the 4th or 5th century at a monastic university in India, where archeologists discovered complex communal meditation rooms and signs that monks kept images of Buddhas or candles in their cells.