Pagosa woman wins Buddhist honor
by Ann Butler, Durango Herald, March 29, 2009
Pagosa Springs, CO (USA) -- After more than 45 years of studying, teaching, writing and practicing Buddhism, Pagosa Springs resident Lama Tsultrim Allione has been named Buddhist Woman of the Year by an international committee.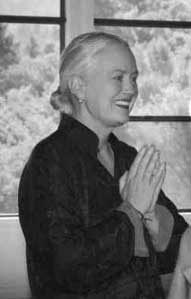 << Lama Tsultrim Allione folds her hands during a teaching at Tara Mandala outside of Pagosa Springs. She was named Buddhist Woman of the Year earlier this month.
The award was given earlier this month at the Women in Buddhism awards ceremony in Bangkok, Thailand, which was held in honor of the United Nations' International Women's Day.
Allione, who is on a book tour, sent a representative to receive the award on her behalf. She was selected by the Outstanding Women in Buddhism Committee, which consists of Buddhist scholars and practitioners.
"My grandmother gave me a book about Buddhism when I was 15 and growing up in New Hampshire," Allione said in a phone interview. "She was quite an interesting woman. She was the fifth woman to get a Ph.D. from Harvard. She studied philosophy and was interested in the New England Transcendentalists."
While Allione felt drawn to Buddhism, she said at the time, there wasn't any Buddhism in America. When she was 19, she traveled to India, where she met Tibetan Buddhists in exile.
"I was piqued by the incredible joy and peacefulness in the faces of people who had seen their entire families shot in front of them (by the Chinese)," Allione said, "or by those who had lost everything."
In 1970, the 16th Karamapa, a Tibetan Buddhism leader who is now her root lama, recognized Allione as the reincarnation of an 11th century yogini, Machig Labdron. In June of that year, Allione became one of the first American women, as well as the first in her lineage, to be ordained a Tibetan nun.
Four years later, she gave back her vows, having found it difficult to be one of the only Buddhist nuns in America. Allione continued to practice and teach while continuing her studies at Antioch University. She also married and had three children. At one point, she lived in Italy for seven years, where she wrote her book Women of Wisdom, published in 1984.
"I needed to tell the story of women in Buddhism," she said. "My research on that came from my own need, and I found that a lot of other people needed it too."
On the Web site for Tara Mandala, the Buddhist retreat she has been building outside of Pagosa Springs since 1994, Allione discusses the gender discrimination she saw in the Tibetan culture.
"In the Buddhist religious texts, there are many references to the sacred feminine," she wrote on her autobiography page on the site, "in the form of female teachers, deities, and symbolism, but the real life of female practitioners was far from ideal. Nuns were not allowed to receive as many teachings as monks."
Tara Mandala is named in honor of Tara, the female Buddha of compassion.
One of the reasons for Allione's selection as Buddhist Woman of the Year was that she has been a spokeswoman who brought the feminine principle back to Buddhism.
"The award is very strengthening, very empowering, an international award that says this person is legit," she said. "It's the most meaningful, because I really had to stand up for this. It wasn't easy in a patriarchal tradition."
Allione said that the revival of women in Buddhism has happened at the same time as women's place in Western societies has been enhanced.
On Sept. 11, 2001, she was on a year-long retreat.
"When I heard the news, I asked, 'Where's the feminine in the lives of these men?'" she said. "Where was the feminine in our response? It reinspired me to recommit to the resurgence of the interest in the divine feminine. We need balance, we need the voice of the sacred feminine in our spiritual lives."