Boulder's Naropa University appoints first black president
By Jabril Faraj, Colorado Daily, April 8, 2009
Stuart Lord, associate provost at Dartmouth College, will take over July 1

BOULDER, Colo. (USA) -- The associate provost of Dartmouth College will become the first black president of Boulder's Naropa University on July 1.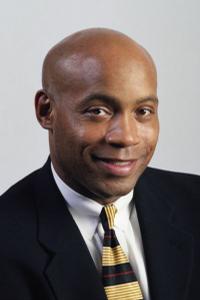 << Courtesy of Naropa University
Naropa University President-elect Stuart C. Lord
Colorado Daily, April 8, 2009
Stuart C. Lord, a 49-year-old Christian minister, will succeed Thomas Colburn as head of the "Buddhist-inspired" university, Naropa officials announced Wednesday.
"I'm thrilled and excited and eager to work with a talented, committed faculty who teach from the heart and soul and who embody the vision of transformation through contemplative practice," Lord said during a news conference Wednesday at the school's 2130 Arapahoe Ave. campus.
"It's an exciting time for the history of this place and an exciting time in this transition, and the plans set forth will create great opportunities for Naropa and the Boulder community."
Faculty Trustee Andrew Schelling said his colleagues are united in their excitement about Lord's appointment.
"I think Dr. Lord has really won us over," he said.
Board of Trustees Chairman Martin Janowitz echoed that sentiment.
"He's exactly what Naropa needs," Janowitz said. "We talk about Naropa being a place where different types of wisdom come together — East, West, diversity, poverty, wealth — and here he is."
Lord, who earned his master's degree from Princeton Theological Seminary, has been associate provost of Dartmouth, an Ivy League school in Hanover, N.H., since 2000. He also serves as dean of Dartmouth's William Jewett Tucker Foundation, which "emerged as one of the nation's leading on-campus civic service and spiritual life centers," Naropa said in a news release.
Lord said his decision to come to Naropa was based on the opportunity to focus his efforts fully on what he's been pursuing on the side for years.
"I made a choice to follow my idealism and to work with an institution to put into practice what I know is right for higher education, and here's a place that welcomes that," he said. "I've always gone to places where there are opportunities and challenges, and this place definitely has opportunities and challenges and a community willing and eager and excited about its future."
Lord also emphasized his commitment to community engagement; the necessity for Naropa to become directly and dynamically involved in Boulder; and what he hopes to accomplish in his time as president.
"I want to really push this notion that our problems are the world's problems, and the problems in Boulder are our problems, and how we can collaborate together to use the rich resources of this place to make a difference," he said.