Monks bear down to create fleeting works of sand art
RUFFIN PREVOST Gazette, August 21, 2009
RED LODGE, Wyoming (USA) -- A small crowd has gathered in a hot, stuffy back room at an art gallery to watch two artists work on their latest creation. People gaze respectfully, taking slow, measured breaths while quietly keeping their distance from the process.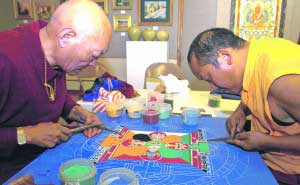 << RUFFIN PREVOST/Gazette Staff
Buddhist monks Ngawang Choejor, left, and Lama Penjo create a sand mandala on Friday at the Carbon County Arts Guild and Depot Gallery in Red Lodge. The men will continue work on the project until Sunday, when it will be swept away in a destruction ceremony.
The artists work methodically, with a look of placid contentment and confident determination, unruffled by the spectators, camera flashes and questions.
Until someone turns on a fan.
"Please point that away, in the other direction," says Ngawang Choejor, speaking through an interpreter.
Despite the stifling heat, Choejor, 74, prefers to work in calm, still air. A breeze could destroy hours or even days of work.
Choejor and his partner, Lama Penjo, both Buddhist monks from Tibet, are creating a sand mandala, an ancient form of ceremonial religious art.
The men use long metal funnels called chakpurs to deposit fine-grained colored sand in a concentric geometric pattern, following centuries-old traditions to construct fleeting works of art that will be destroyed almost as soon as they are finished.
"The mandala is a metaphor for the impermanence of everything, including life itself," said Karma Tensum, executive director for the Helena-based Tibetan Children's Education Foundation.
"The sand, which has captured our healing prayers, will be dispersed in the wind," he said, describing one common method of ceremonial destruction of the mandala, meant to demonstrate the fleeting nature of the material realm and individual life.
Tensum is hosting the two monks and interpreting for them on a multistate tour that starts this weekend in Red Lodge and continues in Washington, Oregon and California before returning in October to Bozeman, Missoula and Helena.
The monks will create - and destroy - mandalas at each stop along the way, working to raise funds for the foundation's efforts in educating Tibetan refugee children, and to spread awareness of Tibetan art and culture.
"It is a very special culture, but it is endangered," Tensum said, adding that cultural and religious repression by the Chinese government has brought a steady decline to enrollment at monasteries there, and is stifling traditional Tibetan customs.
"We are struggling against the policies of the Chinese leadership, but not the Chinese people," Tensum said.
The monks work deliberately, frequently sitting back to breathe, to assess their progress and to plot their next moves. They load small bits of sand into the long, ribbed funnels, then run another metal funnel across the first in practiced rhythm, vibrating the tube to drop the sand, just a few grains at a time.
"Every dot has a specific place, according to the scriptures and traditions," Tensum said, adding that the monks never improvise by substituting a new color or shape. They create each mandala according to a specific order and process.
"They are aiming for perfection," he said without irony, despite the certainty that at least a few of the countless grains of sand will be out of place in every mandala.
"There are many layers of meaning to the mandala, including even a secret meaning for the monks," he said.
"It's a really creative way to get people's attention and ask for interaction," said Sue Logan, a Red Lodge musician.
"My performance art is impermanent, like this is. Even if you make a recording of music or take a picture of this, the real item is still what happens in this room at this time," Logan said.
"I'm just amazed and impressed with how symbolic it is of the fragility of life," said Shelly Oksendahl, of Billings.
Choejor, who studied for eight years to become a sand mandala artist, said he is not bothered by performing the exacting work in front of a room full of people.
Perspiration, however, is an enemy. A drop of sweat can scatter and ruin layers of carefully placed sand. But Choejor said he has learned to keep his cool after creating hundreds of mandalas over the past 30 years in Japan, Mexico, Europe and the U.S.
Though most people understand Buddhist concepts of impermanence, the destruction of a mandala is still unsettling to some Western viewers, Tensum said.
"After the days of painstaking work, to see it destroyed in one swift motion of the hand - they're taken aback," he said.