Buddhist Monk Builds Mandala at U of Mary
by Amanda Tetlak, KFYR-TV News, Sept 22, 2010
Bismarck, ND (USA) -- At the University of Mary, students learn about the Catholicism and its practices. This week they`re getting the chance to learn about an Eastern culture and religion.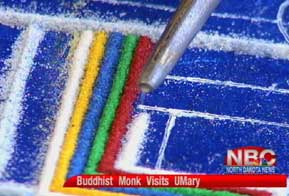 A Tibetan Buddhist monk is spending the week in Bismarck showing students about the sacred art of sand mandala.
Steady hands, clear vision and a lot of patience are just a few of the talents Venerable Ngawang Chojor displays as he shows the students how he creates a sand mandala.
Chojor has been a Buddhist monk since he was 13. He spent eight years training in the sacred art of sand mandala, learning what all the shapes and colors mean and the spiritual concepts behind them before being allowed to lay a grain of sand. He says he`s not only motivated by the spiritual component of his work, but also by the appreciation of others.
"Nowadays he especially motivates himself to do it because he realized it`s a really pure Tibetan art form he can share to western audiences," said Chojor, interpreted by Karma Tensum.
The mandala he`s creating in Bismarck represents compassion. And after he`s finished with it, he`ll destroy it to symbolize the impermanence of life.
"To live life in the moment, to not get frustrated, unruly angry when things don`t go your way," said Tensum.
It`s a lesson the students say they appreciate and admire his dedication.
"I can`t even complete a cross stitch project. So I can`t imagine how he can sit for hours a day just putting little grains of sand into the perfect spot to make such a detailed creation that has so much meaning behind it," said Krista Harju, University of Mary student.
University of Mary student Kayla Messer, "It`s very different, but it`s enjoyable that people can share their religion and we can all relate some different way."
When the mandala is destroyed, the sand will be swept up and given to the audience at the closing ceremony or given back to mother earth.
You can watch the monk do his work at the University of Mary from 10 a.m. to 5 p.m. tomorrow and again Friday morning. He`ll destroy the mandala around noon on Friday.