Geshe Sherab back in Santa Fe
By Adele Oliveira, The New Mexican, September 18, 2013
Santa Fe, New Mexico -- Tibetan Buddhist monk Geshe Thubten Sherab, who returned to New Mexico this month to teach at Santa Fe's Thubten Norbu Ling Buddhist Center, has said that it was his karma to be a monk. Born in Nepal, Sherab entered a monastery at age 9. Since then, he's studied with the Dalai Lama and has taught Tibetan Buddhism all over the world.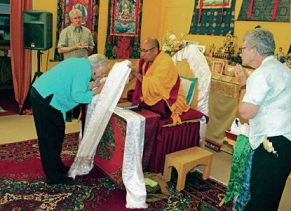 <<Geshe Sherab gives a teaching Sept. 4 at Thubten Norbu Ling Buddhist Center. Photos courtesy Thubten Norbu Ling Buddhist Center
Sherab first traveled to New Mexico in 2001 when he was asked to teach at the Foundation for the Preservation of the Mahayana Tradition, a Tibetan Buddhist organization then headquartered in Taos.
"I had no idea what it was going to be like," Sherab said. "When [foreigners] think of America, they have an image of New York or Los Angeles. But it was totally different here. I really like it: the spaciousness, the quietness. As I visit bigger cities, like New York and Boston, I appreciate being in New Mexico. It's not so rushed, more relaxed."
Now Sherab has come to Santa Fe to teach every Sunday for the next three months. (Geshe is an honorific term applied to monks who have achieved a certain level of academic and religious study.)
"Buddhism is about learning and understanding yourself, your own mind and your emotions," Sherab explained. "With that understanding, [we are] trying to reduce negative and destructive emotions like unhappiness and pain [and to] cultivate love and improve the positive state of mind, compassion, wisdom and tolerance. These are the source of strength and courage."
The main room of Thubten Norbu Ling, the Buddhist center on Second Street, is painted bright yellow and carries the residual smell of spicy, recently extinguished incense. Underfoot, the plush pile of an oriental carpet cushions bare or stockinged feet, and an altar at the front of the room decorated with statues of the Buddha, photographs and perky artificial flowers dominates the front of the room.
Sherab will spend at least part of the year teaching in Santa Fe for the next three years. Founded in 2001, Thubten Norbu Ling has about 45 regular participants. Between 50 and 100 people attend their special events.
Sherab wears glasses, a standard maroon robe and his hair cropped close to his head. He is himself relaxed and open, and speaks excellent English, using idiomatic phrases like "I mean." After a childhood spent growing up and living in Kopan Monastery, Sherab decided to be a monk when he was 20 or 21, continuing his studies at Sera Je Monastery, both in Nepal. "At 18 or 19, I struggled a lot," he said. "I thought I wanted to leave and have a family. I had a lot of struggle for two years, but overcame it."
At Thubten Norbu Ling, Sherab teaches every Sunday from 10 a.m. to 12 p.m., and on Thursdays, he works individually with advanced practitioners.
Sherab has worked with Buddhists across several continents. This year, he had invitations to teach in Australia, Denmark and Malaysia, but decided to return to New Mexico because when he left Taos in 2003 he promised to come back. "I had a strong connection to the people here from my previous visit," he said.
When he leaves New Mexico after three months, Sherab will travel to India to receive specific teachings from the Dalai Lama. Sherab said that Buddhism is different in every culture, and varies across Asia, too. "Buddhism looks different in China [than it does] in Mongolia or Korea because the culture is different," Sherab said. "But it's the same essence."
On the differences between Buddhism in the West and in the East, Sherab gave this example: "From a very young age, [Asians] grow up in a culture based on Buddhist principals. For example, you're taught and observe that you shouldn't kill any animals, so it's natural; you just do it… In the West, people are more analytical, academic and intellectual, especially when they come to Buddhism. It can be hard to go beyond that level."
Sherab added that he's invested in having exchanges that reach beyond discussions of Buddhism. "I'm also interested in talking to people about Tibetan culture," he said.