Finding beauty in diversity
by Mel Meléndez, The Arizona Republic, Nov. 9, 2004
Arizona, USA -- A crush of Central High School students bent over the velvet ropes, cellphones in hand to snap photos of the multicolored Tibetan sand painting. "Wow. It's beautiful," sophomore Yaffa Malayeva whispered. "I can't believe they did that by hand in such a short time."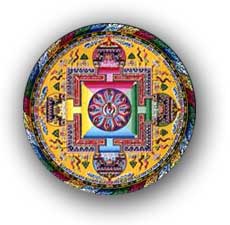 Central High School's library was abuzz with Tibetan culture last week, courtesy of Lobsang, 46, and Yeshe, 35, two Buddhist monks from Tibet who spent 40 hours creating a 4-foot by 4-foot mandala as part of a weeklong curriculum on the 2,500-year-old art form.
The mandala, a Sanskrit word for "circle" or "whole world," could not have found a better home where its diverse colors highlight the diversity of Central's urban campus and the importance of accepting differences in others, said ZaChoeje Rinpoche, the 36-year-old spiritual leader who translates for the monks.
"It's symbolic of how there is only beauty in the world when all people are united," he said, "because it's only when the mandala's different colors come together that you see true beauty."
The concept seemed to resonate with the teens, most likely because the 2,300-student school is one of the most diverse high schools in the state.
More than 82 percent of Central High's students are ethnic minorities, with students speaking more than 40 languages, including Arabic, Cambodian, Greek, Somali and Farsi.
Some of the students' families are refugees, sponsored by local churches. But the campus also attracts students interested in world cultures because it's home to the International Studies Magnet Program for Phoenix Union, the state's largest high school district.
A stroll through the campus quickly gives away its focus, as visitors spot trash cans sporting colorful country motifs, clocks set to different time zones, and a Flags of the World display.
"We're all so different. That's why a project like this is perfect for this school because it's about everyone uniting," Malayeva said.
"Imagine if the world embraced that message. We wouldn't be at war."
It's especially important for teens to value other cultures, said Nemoo Kahsia, a 17-year-old Somali refugee.
"If you embrace the mandala's message early on, think how much more tolerant we'd be as adults," she said, adjusting her hijab, or Muslim head scarf.
"I'm so happy that I got to see this in my lifetime."
The mandala's message of love and compassion seemed to elude some adults, said Lorna Holmes, 54, a visual art and design teacher.
"We received calls from some upset parents who thought we were promoting Buddhism," she said. "I had to explain that our students learn of different cultures and that you can't study Tibetan culture without touching on Buddhism."
The project is one of several covered by a $100,000 arts integration state grant to introduce art into core subjects, such as reading, math and history.
About 520 Central High students participated in the mandala curriculum, which included learning Tibetan history and designing their own sand paintings.
On Friday, after the dismantling of the mandala, students helped pour its sand particles into an adjacent canal to spread the "positive energy into the world."
"That was awesome," sophomore Deamir Cato said.
"I like how destroying it symbolizes impermanence . . . how in life you have to learn to let go, even of beautiful things."