Dalai Lama gives 'Presence' to city
By TARA DOOLEY, Houston Chronicle, Sept 20, 2005
Though he calls himself nothing special, his vision inspires millions
Austin, Texas (USA) -- The Dalai Lama, the spiritual leader of Tibetan Buddhists and political leader of the Tibetan government in exile, will be in Houston today and Thursday. All events are sold out.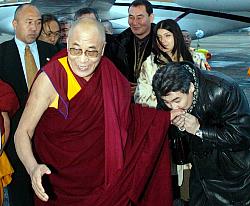 The Dalai Lama is known as the Ocean of Wisdom and the Wish-fulfilling Gem. But for some who have met him, the most descriptive title is Kundun, the Presence.
"He enters a room, and even if you didn't see it, you know it," said M. Alejandro Chaoul, a Rice University doctoral candidate who has studied with the Dalai Lama.
Since winning the Nobel Peace Prize in 1989, the Dalai Lama has turned heads as a major political, religious and cultural presence. He has packed arenas around the globe, including the University of Texas Frank Erwin Center in Austin on Tuesday. Free tickets to Thursday's talks at Rice University's Autry Court were claimed within eight hours of becoming available.
"He really models something that this world is hungry for and that everyone realizes is essential," said Anne Klein, a religious studies professor at Rice University who studies Tibetan Buddhism.
"This Dalai Lama has made it clear that he is not only here for the Tibetan people, but he wants to do what he can for the entire world."
In a nearly two-hour talk before 12,000 people in Austin, the Buddhist monk touched on some of his main concerns, such as nonviolence and interfaith dialogue.
The Dalai Lama said he encouraged President Bush to seek peaceful measures after the Sept. 11, 2001, attacks. But he acknowledged that knowing what to do was "beyond" his wisdom.
He advocated a global responsibility and compassion that he said would begin only when individuals cultivated the same principles within themselves.
He also called for religious harmony, saying that "all religions have some potential to serve humanity." Religion, he said, can offer hope in times of tragedy such as hurricanes.
As political leader of the Tibetan government in exile, he spoke of his people, both living in the Himalayan region and living in exile.
Dressed in traditional red and yellow robes and carrying a small red satchel, the Dalai Lama entered to a standing ovation. He spoke in English with the occasional help of a translator and near the start of his talk assured the crowd that he is "nothing special."
He told listeners that if they found his ideas interesting they should follow up with "further investigation."
"If you think these ideas are not much of interest, then forget it," he said, drawing a laugh from the crowd.
Bodhisattva of Compassion
"Dalai Lama" means Ocean of Wisdom. The current Dalai Lama is the 14th in a line of leaders stretching back to the 14th century. Each is considered the reincarnation of the Bodhisattva of Compassion, "an expression of all the compassion of the past, present and future of all Buddhas and all enlightened beings," Klein said.
Rather than serving as sort of a pope of the Buddhists, the Dalai Lama is trained in one of Tibet's five religious traditions. He is recognized as the spiritual leader for all Tibetan Buddhists and revered by practitioners across the many Buddhist traditions.
An international leader
The Dalai Lama was born Lhamo Dhondrub in 1935 to a peasant family in eastern Tibet. He was discovered at 2 to be the reincarnation of the previous Dalai Lama. Taking the name Tenzin Gyatso, he was installed in Lhasa, the capital of Tibet, in 1940. When China invaded Tibet, the Dalai Lama was working on his rigorous Buddhist training and serving as head of government. He was 15.
In 1959, after the Chinese suppressed a Tibetan uprising, the Dalai Lama escaped Tibet for India and set up a government and residence in exile in Dharamsala. About 130,000 Tibetans now live in exile.
Prompted in part by history but also by personality and mission, the Dalai Lama embarked on a path that has made him the most unusual leader from what had been a largely isolated country nestled in the mountains.
"It is totally extraordinary," Klein said. "It is the first time in history that a Dalai Lama has become a world-renowned figure."
His popularity stems from a sense that he lives what he believes, said Dr. Howard Cutler, a Phoenix-based psychiatrist who worked with the Dalai Lama on The Art of Happiness: A Handbook for Living, a 1998 book that was on the New York Times best-seller list for 97 weeks.
"People sense that he has a kind of certain moral authority," Cutler said. "He genuinely lives by what he talks about."
A keeper of tradition
Though an international star, the Dalai Lama often refers to himself as a simple monk. And he is — in part, said Cutler, who met the monk in 1982 and is working on his third book with him.
Despite his schedule, the 70-year-old rises well before dawn for at least four hours of prayer and meditation, Cutler said. As a monk, he has taken vows of celibacy and does not own personal property. According to tradition for monks, he usually does not eat dinner and goes to bed early.
Though he speaks to a general audience about universal themes, the Dalai Lama's talks to the faithful are often detailed exegeses of ancient Buddhist texts, many of which he can quote from memory.
"Very few people know that he is an unparalleled scholar of his own tradition," said Klein, a founder of Dawn Mountain, which offers Tibetan Buddhist teaching in Houston.
A main part of the Dalai Lama's role has been as champion of Tibet and its people.
Some, however, have criticized him for advocating autonomy rather than calling for Tibetan independence from China.