Dalai Lama joins rush to get out of Rita's way
By TARA DOOLEY, Houston Chronicle, Sept 21, 2005
He leaves city early after giving speech on religion and science
Houston, Texas (USA) -- The Dalai Lama is joining the many who will leave Houston ahead of Hurricane Rita. Officials at Rice University canceled his two talks scheduled for today because of the storm.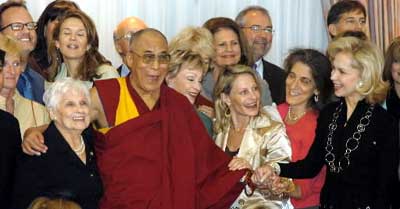 << The Dalai Lama hugs 92-year-old Ida Fink, left, at the end of the conference Wednesday at the Westin Galleria hotel.
But the Dalai Lama did participate Wednesday in a Houston symposium on Spiritualism and Science in the Modern World.
"It was a miracle" that he came, event chairwoman Gail Gross said.
The Dalai Lama, the spiritual leader of Tibetan Buddhists and the political head of the country's government in exile, is on a tour of the United States that already has taken him to Idaho, Arizona and Austin. He is scheduled to leave Houston this morning.
After Wednesday's symposium at the Westin Galleria, the Dalai Lama briefly attended a VIP reception, greeting his own fans and posing for a group photograph with event volunteers.
"He was very funny, he had a lot of personality," said Jada England, 26, who helped with the event.
In his talk, the Dalai Lama spoke of the relationship between religion and science. Religion, he said, deals with inner peace and offers comfort when people are confronted with situations beyond their control.
"Of course the practical benefit of science to humanity is beyond question," he said. "Flight today is very easy, very convenient because of science, not prayer."
He said he believes that his religion may need to re-examine beliefs disproved by science. "When I say these things, I am curious about the opinion of my senior colleagues in the tradition," he said. "They may be thinking I'm probably going too far in my thinking."
The serious talk included references to ancient texts and Buddhist cosmology. But when taking questions, the tone was lighter.
When a scientist asked whether the Dalai Lama had a list of unsolved problems for humanity, he answered: "No."
After the laughter died down, the Dalai Lama rattled off a list that included the energy crisis, the environment and the gap between rich and poor.
Topping his list was the promotion of human value and a devotion to religious harmony.
"These two things are, I think, my lifelong commitment," he said.