Ancient Tibetan medicine comes to Flagstaff
By BETSEY BRUNER, Arizona Daily Sun, May 29, 2007
Flagstaff, Arizona (USA) -- Lobsang Tenzin is seeing patients through mid-June, thanks to hosts Marsha and John Ashurst and donated office space.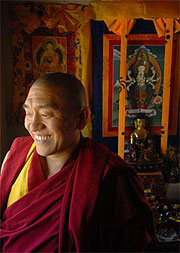 << Lobsang Tenzin is doing an extended homestay in Flagstaff this spring. He gives personal and medical advice from an eastern perspective. Josh Biggs/Arizona Daily Sun
The monk's demeanor is calm and his touch gentle Wednesday, as he places the three middle fingers of his right hand on an older woman's right wrist.
Dressed in maroon and saffron-colored monastic garments, he is evaluating what he calls her pulse, but not in the Western sense.
"I am looking for nerves, how deep, how strong," said Lobsang Tenzin, an ordained Tibetan Buddhist monk and doctor of Tibetan medicine. "I look at patients' tongue, eyes, face and color."
Tenzin arrived in Flagstaff May 11, on Amtrak via Los Angeles.
He is staying with local residents Marsha and John Ashurst.
Tenzin is here to give Tibetan medical evaluations and to dispense herbal treatments.
"I'm looking for blood circulation channels," he explained. "Also, I'm looking for elements and wind channels and also bile. I'm also looking at the breathing. Then I discuss more questions and answers."
Here to help
His title is Geshe, the equivalent of a doctorate in Buddhist studies, and this is the most recent of several trips to Flagstaff to bring ancient Tibetan medical and spiritual knowledge.
So far, Tenzin, 43, has seen about 40 local patients in a space donated by Dave Dobrick at his Late for the Train warehouse.
The most common local complaints are allergies and stress, Tenzin said. Other ailments here include asthma, high blood pressure, high cholesterol and diabetes.
His sessions include the evaluation of internal organs -- the heart, stomach, liver, lungs, kidneys, bladder and intestines -- and a two-week supply of "pills."
These are little round balls of Tibetan herbs, in various sizes and colors (pink, yellow, white, red and black), each prescribed for specific ailments.
"These herbals we took in very high mountains," he said. "Some, we took in very high rivers. Some, we took in low jungles." Patients put the pills in their mouths, crush them slowly with their teeth and swallow them with water or tea.
"There are many different tastes -- some sour, some bitter, some sweet," he said.
Medical consultations last about one hour for people with more serious medical problems, and 20 to 30 minutes for less serious problems.
"They feel better very soon," Tenzin said.
Fleeing the motherland
Tenzin was born Dorji Wangchuk on June 15, 1966, in Bhutan, a Himalayan country between Chinese-occupied Tibet and India.
His parents had fled Tibet in 1959, seeking safety in Bhutan. As a young boy, he began medical training at Rikhsum, a small monastery in Eastern Bhutan.
"I started learning when I was 10," Tenzin said. "I also learned dharma [the body of teachings expounded by the Buddha] and astrology and also Tibetan painting and many kinds of ritual." He graduated at 18. In 1985, at age 20, Tenzin came to Gaden Jangtse Monastery in Mundgod, South India, to train as a monk.
"I can never see my motherland in Tibet," he said. "We are not allowed visas [by the Chinese government]."
Today, he still lives at the monastery and is the medical director of the Gaden Jantse Medical Center. About 2,600 monks live there, on 17 acres donated by the Indian government.
All donations from his treatments here will go back to India to help the monks and children being treated at the medical center in Mundgod.
"This medical center is open to everyone, not just monks," Tenzin said. "Every day, more than 45 people come for treatment."
A chance meeting
The Ashursts first met Tenzin in the late-1990s. He was traveling in a van with a group of monks, and their van broke down near Show Low, where the couple was then living. The Ashursts gave shelter to Tenzin and the other monks.
"He considers my husband and myself his mother and his father, Amala and Pala," said Marsha Ashurst, who has studied Buddhism on her own.
The Ashursts, who have traveled extensively in Asia, went to India in 2005 to watch Tenzin receive his Geshe title after he finished his religious studies.
He always stays with the couple on his Flagstaff visits. "We like to have him come stay with us; he's a good cook," said John Ashurst, with a laugh.
Tenzin said there are as many as 2,225 different treatments in the 3,000-year-old Tibetan medical tradition.
Since 1994, Tenzin has been instructed by the Khen Rinpoche, the abbot of his monastery, to travel abroad to bring the treasures of Tibetan medical and spiritual knowledge.
In addition to repeat visits to the U.S. and Canada, he has visited Holland, Switzerland, Japan and Taiwan.
"I want to share the Tibetan culture by coming here," Tenzin said. "It's important to share my country, Tibet, and preserve the culture."
Reporter Betsey Bruner can be reached at 556-2255 or by e-mail at bbruner@azdailysun.com.
How to make an appointment
Tibetan medical evaluations and herbal treatments with Lobsang Tenzin, a trained doctor of traditional Tibetan medicine, are available by appointment only.
Appointments are being booked for this Tuesday and Wednesday, and for five days beginning June 11.
Donations are sliding scale and benefit the Gaden Jantse Medical Center in South India.
To book an appointment and for treatment location, call 773-0100.