Creating, destroying art to show compassion
by CRYSTAL GARCIA, Tucson Citizen, April 4, 2008
Arizona, USA -- Most artists want to preserve their work forever, but for Buddhist scholar Losang Samten, the completion of his sacred artwork is followed by dismantling it and throwing its remnants into running water.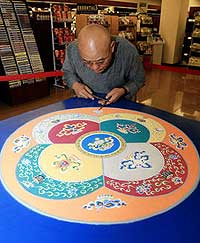 << VAL CAÑEZ/Tucson Citizen
Buddhist scholar Losang Samten works on a mandala at the University of Arizona BookStore.
Samten has been at the University of Arizona BookStore in the student union since Sunday. He's been painstakingly creating a mandala, an intricate, symbolic design, with millions of brilliantly colored grains of sand.
Sand mandalas are a form of art from Tibet, where Samten was born. Bent over a table in the bookstore, Samten uses a metal funnel, or chakpos, to strategically pour the sand into place.
Using geometric shapes and Tibetan images, he has created a symmetrical pattern he said he hopes communicates compassion.
On Saturday, Samten will destroy the image in what is known as the Dissolution Ceremony. The sand grains will be washed away, symbolizing a core principle of Buddhism that nothing is permanent and eventually all things will return to their place in Earth.
Samten was the first Buddhist monk to publicly introduce the sand mandala to the United States. He was born in Tibet, which was invaded by China and annexed in 1951. He and his family fled to neighboring Nepal in 1959 when Tibet's leader, the 14th Dalai Lama, sought political asylum in India.
At age 11 Samten became a Buddhist monk and studied the customs of Tibet, including the challenging task of creating sand mandalas. He became a personal attendant to the Dalai Lama and an accomplished scholar who travels worldwide to share his skill.
Samten's visit to Tucson, sponsored by Arizona Friends of Tibet, comes after the largest anti-government protests in almost two decades in Tibet last month.
China is trying to contain violence ahead of the Beijing Olympic Games in August. It has sent thousands of police and army troops to Tibet to restore peace, hunt down protest leaders and limit access to Buddhist monasteries. Monks led protests that began peacefully on March 10 and turned violent four days later.
Chinese officials have put the death toll at 22. But Tibetan exiles say nearly 140 people have been killed.
Arizona Friends of Tibet, a nonprofit organization formed to educate the public about Tibetan culture and civilization, invited Samten to share his art form with the Tucson community.
"We try to do things that benefit the Tibetan people and culture. We try to keep it alive," said Mary K. Thompson, Arizona friends of Tibet volunteer.
Samten believes that the mandala is a powerful tool to communicate his message of compassion.
"For some people it's a lot easier to understand through the art," Samten said.
UA student Sancho Manzano quietly observed Samten as he diligently worked on the sand art. Manzano says he was drawn by Samten's "patience, art and persistence."
Paula Fuchs took her two children to view the creation of the mandala.
"I want my children to be exposed to different religions so that they can learn about other people and customs," Fuchs said. "It makes us interdependent and understanding of others."
---------------
The Associated Press contributed to this report.