Thai Buddhists' spirit endures at memorial of massacre
by Joy Slagowski, Daily News-Sun, Aug 18, 2009
Avondale, AZ (USA) -- The sights, smells and sounds Saturday gave the appearance more of a Thai celebration rather than remembrance of the massacre at Wat Promkunaram, a Buddhist temple, monastery and cultural center in Waddell serving primarily the Thai community.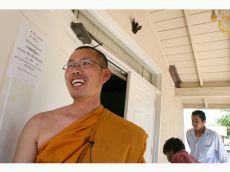 << Buddhist monk ArjahnSarayut Arnanta laughs as guests enter the Wat Promkunaram Buddhist Temple during a memorial day anniversary.
Upwards of 60 Buddhist monks from around the country milled about carrying video and digital cameras, recording the morning service of prayers and chanting, and other festivities.
The dining hall was abuzz with preparation of a lunchtime feast featuring dozens of Thai delicacies prepared by members. And a marketplace featured homemade food, clothing and other items for sale.
The festive atmosphere belied the somber reason for the event: It was the 18th anniversary of the killings of six monks, a nun and two laypeople at the temple, the largest mass murder in Arizona.
Around midnight on Aug. 8, 1991, two Avondale high school students, Johnathan Doody, 17, and Alessandro "Alex" Garcia, 16, arrived at the temple dressed in military clothing. Armed with a 20-gauge pump shotgun and .22 caliber rifle, they killed nine people.
They were convicted of the murders and each was sentenced to nearly 300 years in prison.
A memorial in the courtyard contains the cremains of those who were murdered.
ArjahnSarayut Arnanta, the temple's acting spokesperson from Tucson, said the memorial day services — which began on Saturday and concluded on Sunday — were to honor and commemorate the lives of the slain. The weekend's events featured chanting, services, prayers and a candlelight ceremony.
"(They were) teaching of the Buddha and sacrificed their lives to do that," Arnanta said.
Arnanta said the temple strives to maintain the message of Buddhism in the face of the tragedy.
"(There is a) peaceful message of Buddha that we hope to prevail," Arnanta said. "And we want to live peacefully with American culture and bring awareness we are here in peace."
Sangiem Shliekelma of Blythe, Calif., said she believes it's important to honor those lost in the killing.
"You cannot forget what happened," she said. "We must give merit to those who have passed away."
Nimi De Silva of Phoenix said she feels the spirits of those who were killed are with them and see the festivities held in their honor.
"They still see what we are doing," De Silva said. "Last year we tried to light a candle and it wouldn't light until we said, 'You don't let us light the candle.' "