Sunday services barred at Buddhist temple
by Ari Cohn, East Valkley Tribune, August 20, 2009
Chandler, AZ (USA) -- A Buddhist temple run out of a Chandler home has been banned from hosting Sunday worship services.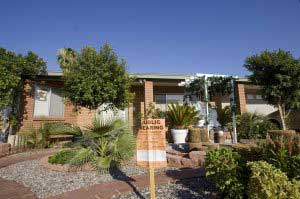 << A Buddhist temple run out of a Chandler home has been banned from hosting Sunday worship services.
Matt Pavelek, For the Tribune
Chandler has barred a local Buddhist temple from holding Sunday worship services for the last three months after an investigation into neighborhood parking issues associated with the temple turned up building code violations.
The City Council could grant a permit to allow services at the Vien Minh Buddhist Temple to resume next month, albeit with a limit on the number of people who can participate at any one time as well as other restrictions.
Dao Chuan, temple spokesman, said the roughly 100-member congregation, which includes people of all ages, from families with young children to the elderly, has begun looking for a new, larger location in Chandler or Tempe.
The three Buddhist nuns who live at the existing temple - in a single-family home at 285 N. Comanche Drive, in a residential neighborhood near Alma School Road and Chandler Boulevard - have taken vows of poverty and subsist entirely on donations. But the congregation includes some wealthy people, such as a couple of doctors, Chuan said.
"It's quite costly, but some of the members are well off," he said of the planned move.
There's not much to distinguish the temple from the surrounding neighborhood, besides a couple of Buddha statues in the front yard. Services began there in February 2006, when Sister Lien Thuy Ngo moved in to the home with two other nuns after they determined a need for a Buddhist temple in Chandler, Chuan said. The nuns previously resided at a sister temple in Tucson, he said.
The nuns practice a traditional form of Buddhism from Vietnam, Chuan said. Services are conducted in Vietnamese and in English. Most congregants are Vietnamese, with a few from China and Japan, as well.
"It's a very gentle religion that doesn't proselytize," he said.
The lifestyle of Buddhist nuns is similar to those of Catholic nuns, in that they take vows of poverty and celibacy, Chuan said.
"They wear robes. That's all they own," he said. "It's a very long tradition. There were nuns in the Buddha's time going back to 500 B.C."
One of the nuns in Chandler entered the convent when she was 7 years old, he said. They have gone through extensive religious training, including a four-year college degree.
"It's a big commitment," Chuan said.
The temple is open every day for a couple of hours in the morning and afternoon. Congregants generally stop by throughout the week to speak with the nuns, who offer religious counseling.
Sunday services generally have attracted 20 to 30 people, Chuan said. The congregation has opened up two of the 1,500-square-foot home's three interior bedrooms to form a worship area with a shrine.
Lately, some of the temple's neighbors began to complain to Chandler officials about parking issues.
Jodie Novak, a senior city planner, said the complaints led officials to discover several building code violations at the temple. The discoveries resulted in the city order in May to cease Sunday worship services.
For instance, the garage had been illegally converted to living space and one of the nuns was using a portion of it as a bedroom. The city ordered the temple to discontinue using it as living space, and take out some of the improvements they had made.
The city also mandated that an outdoor kitchen be removed, that several patio covers erected in the backyard be reduced or eliminated, and that alternative parking outside the neighborhood be secured. A 320-square-foot detached memorial prayer room in the backyard, where congregants post photos of loved ones, burn incense and pray, will have to get a city building permit, Novak said.
The temple will need a use permit from the city to resume Sunday services, she said. On Wednesday, the city's Planning and Zoning Commission voted unanimously to approve the permit. Services could resume next month, if the City Council approves.
However, the temple would be limited to 49 people on site at any one time, because of building occupancy codes, Novak said. And only the indoor area, not the backyard or garage, can be used for worship, until the home is brought up to city code, she said.
Chuan said the temple has reached a rental agreement with nearby Erie Elementary School for parking. Bringing the house up to code could cost about $1,000, but much of the work could be done by volunteers, he said.
The restriction on the number of people visiting at any one time normally isn't a problem, Chuan said, but services on three major holidays can attract up to 100 people.
"There's no room for that many people," he said.
Kevin Hartke, a Chandler planning and zoning commissioner and former City Council member, lives within 600 feet of the temple. He said he attended a recent neighborhood meeting on the temple, and was a little concerned that it didn't get the proper permits.
"They seem to be nice folks," Hartke said. "It's not a question of their circumstances. It's a question of the building, of the setting of the house and the parking."
Novak said she received two calls from neighbors who continued to oppose the temple's operation in a residential neighborhood. However, since the temple secured alternative parking, most residents' concerns have been alleviated, she said.
In a letter to city officials last month, neighbor Crystal Ochoa said the temple is a welcome neighbor.
"The only previous issue was parking," Ochoa wrote. "Now that there is a received approval from (the Chandler Unified School District), I see no issue."