New Buddhist Temple to open Sunday in West Valley City
By Richard Burwash, The Deseret News, April 15, 2011
West Valley City, Utah (USA) -- West Valley City Mayor Mike Winder joined city council members and members of the community on a VIP tour of the new Vietnamese Buddhist Temple Wednesday that is set to open in a community celebration Sunday at 10 a.m.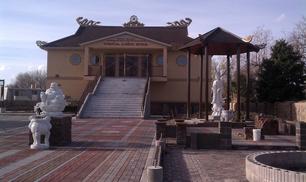 << The Chua Lien Hoa Vietnamese Buddhist Temple is set to open Sunday, April 17, at 10 a.m. in West Valley City.
Rick Burwash
Te Pham, owner of the temple site, led the tour and explained basic Buddhist beliefs.
"We have been working on this as a Vietnamese community for three years," said Pham.
The temple, located near Granger High School at 3595 West Lancer Way (3650 South), is the third Vietnamese temple in Utah.
The two-story structure, complete with a pagoda roof, long steps leading up to the main entrance on the second floor, and two large statues of Buddha in the front courtyard, becomes one of the largest Buddhist structures in Utah. Most Buddhist temples in Utah are built in homes.
Pham pointed out the large multi-purpose room on the first floor where Vietnamese youth groups meet each week to engage in service projects and activities. It is adjacent to a full kitchen and six classrooms.
Pham, who grew up in Vietnam and was a prisoner of war for seven years during the Vietnam War, said he wanted to provide a place for his religion to be practiced in his new homeland.
"Most of the work was done by volunteers, and donations have poured in from the community," Pham said.
He invited the public to attend Sunday's ribbon-cutting, which will also be attended by nine Buddhist monks and nine Buddhist nuns, all of whom are coming in from neighboring states.
Community leaders were impressed.
"This is a beautiful addition to this neighborhood," said councilman Russ Brooks. "These people will be great neighbors."
"We applaud any time a group builds a place to celebrate peace and to encourage people to live better lives," Winder said.
The 2010 Census showed that West Valley City is Utah's most ethnically diverse city, with 45 percent of the city made up by ethnic minorities.
"With this ethnic diversity comes religious diversity," Winder said, "and we are pleased to see temples like this meet our community's needs."