Buddhist temple debuts in West Valley City
By Rosemary Winters, The Salt Lake Tribune, Apr 17 2011
West Valley City, Utah (USA) -- A light spring rain sprinkled a crowd of more than 300 people who gathered Sunday to mark the opening of Lien Hoa Buddhist Temple. Worshippers celebrated by showering thanks on the temple's supporters and making ceremonial offerings of fruit, flowers and water to Buddha.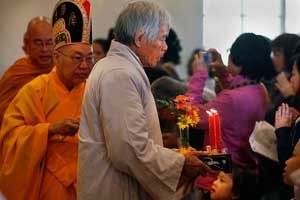 << (Scott Sommerdorf | The Salt Lake Tribune) After the first ceremony in the newly opened Lien Hoa Buddhist Temple, the procession makes it's way through the worshippers to the front door. Lien Hoa Buddhist Temple opened Sunday after a decade of planning, in West Valley CIty Sunday, April 17, 2011.
Lien Hoa caters to the Vietnamese Buddhist community, but all followers of the faith are welcome, said temple founder Te Phan. The temple is one of nearly two dozen Buddhist temples or congregations in Utah.
Phan, 64, bought the land for the temple 10 years ago. He has spent the past decade slowly gathering the funds and in-kind donations needed to build the two-story structure.
"We wanted to build a temple to let everyone have a chance to practice Buddhism. This is part of our Vietnamese culture," said Phan, a West Jordan chemist, in an interview.
Several monks from surrounding states attended the celebration, which was spoken almost exclusively in Vietnamese. Festivities culminated with a traditional lion dance, with young dancers wearing giant decorative heads. Flags of the former Republic of Vietnam (South Vietnam) lined the temple grounds.
Phan was a captain in South Vietnam's air force and spent seven years as a Vietnamese prisoner of war after the South surrendered to the communist North and the nation reunited in 1975. As a Buddhist, Phan believes in daily prayer.
"Even in the prison, we still prayed. We hoped that things would get better," Phan recalled. "I didn't know when I would be free. I just waited day by day."
In 1986, Phan and his wife were allowed to move to the United States. Five years later he launched a Vietnamese youth organization to teach young Vietnamese-Americans their history, language and culture. Children and teens in the program also are taught the value of community service and to stay away from drugs, tobacco and gangs.
For the first time, Phan's Vietnamese Volunteer Youth Association has a physical home: on the ground floor of the Lien Hoa Buddhist Temple. There are classrooms for learning the Vietnamese language and Buddhism, along with a cafeteria for Sunday lunches.
Many of the youths helped raise money to build the temple, preparing food for sale at Salt Lake City's annual Living Traditions festival, where they also perform traditional dances.
"I've learned how to help the community any way I can," said 14-year-old Kevin Nguyen. "One of the most important things about being a Buddhist is to help others as much as you can, to not kill and to not do anything that would hurt anyone or anything."
Hanh Le, a West Jordan mother of three teens, said she is pleased to have a temple so close to her home. She and her husband made small donations to support construction, she said.
"They have a lot of activities for the teenagers," Le said. "They can learn about religion. They can learn about our language."
West Valley City Councilman Don Christensen called Sunday's rain "tears from heaven" for the "joy" of the temple's completion.
"We want to welcome this temple to our city," Christensen said during the opening festivities. "It's been a long time coming, but it represents the beauty of our city, the diversity of our city."