Buddhist stupa is nearly complete
By ROY JACOBSON, South Whidbey Record, Apr 21, 2011
Freeland, WA (USA) -- A major Tibetan Buddhist symbol of peace, tranquility and posterity will be blessed this week at Earth Sanctuary east of Freeland.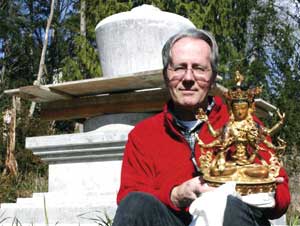 << Chuck Pettis with the gold-painted Buddha statue which will be sealed in Earth Sanctuaryís new Victory Stupa behind him. - Roy Jacobson / The Record
The final segment of the sanctuaryís new Victory Stupa, in the works for the past several months, will be dedicated by a trio of Buddhist dignitaries on Friday morning, April 22, said Chuck Pettis, Earth Sanctuary founder.
ìThe stupa extends oneís life, and creates peace and harmony in the area around it,î Pettis said.
He said the ceremony, expected to begin about 9 a.m., will consecrate the third and final chamber of the stupa. Each chamber is filled with tsase ó special Buddhist objects including prayers, flowers and hundreds of little painted statues, he said.
The first two chambers of the stupa already have been filled with tsase, sealed and blessed, he added.
In addition, a life-force pole and a gold-plated 13-ring dharmachakra will be installed on the top of the stupa, completing the project which began with a Buddhist ground-breaking ceremony this past July, Pettis said.
When the stupa is completed, it will be painted white, with numerous colorful drawings, and will be consecrated as a whole in the special ceremony expected to be widely attended, Pettis said. Landscaping around the stupa also is planned.
ìItís a very holy, sacred space,î he said of the stupa. ìIt has many benefits for visitors who walk around it, and is a blessing for the entire Whidbey Island community.î
ìThis is a big deal,î Pettis added. ìIíve heard lamas say that building a stupa is more important than building a monastery.î
On hand for this weekís ceremony, featuring Buddhist chants and prayers, will be Tulku Yeshi, Khenpo Jampa, and Migmar-la, monks from the Sakya Monastery in Seattle. Leaders of the monastery supervised the construction of the local stupa, Pettis said.
He said the stupa is about 9-feet-by-9-feet and about 13 feet high, with the statue of Buddha facing Emil Road, a short distance from Newman Road.
The pre-eminent symbol of Buddhism, a stupa represents the fully enlightened mind of the Buddha, radiating spiritual power and amplifying prayers, Pettis said.
A Victory Stupa is one of eight types of stupa, and its principal function is to extend life, he said.
Stupas usually contain sacred scriptures, prayers and other sacred objects that extend peace to visitors who walk around it in a clockwise direction while reciting prayers or mantras to purify negative karma brought on by personal troubles, and to refresh spiritual thoughts, Pettis said.
Pettis, 62, founded Earth Sanctuary in 2000 as a place for birds and wildlife, personal renewal and spiritual connection. There are three ponds and more than 14,000 plants drawn from 80 native species, part of Pettisí 500-year restoration vision.
Buddhist shrines and symbols are scattered throughout the property, including two stone circles, a labyrinth, a megalithic dolmen, large standing stones and a Native American medicine wheel.
Pettis is a psychologist, author and business consultant dedicated to peace and enlightenment.
ìIíve tried to create an environment that motivates and facilitates spiritual practice,î he said. ìI donít know anyone who meditates or prays too much.î
Earth Sanctuary nature reserve and retreat center is open daily during daylight hours; the visitor fee is $7. For information about the Sanctuary and Fridayís ceremony, call 331-6667, e-mail cpettis@earthsanctuary.org or visit www.earthsanctuary.org.