Sacred Buddhist relics coming to Ceres temple
By Sue Nowicki, Modesto Bee, Jun 1, 2011
CERES, CA (USA) -- Sacred relics of the Buddha and other Buddhist masters will be on display this weekend at the Laotian Buddhist temple here.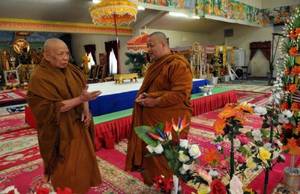 << At left Venerable Bounma Khamvongsod and Sackda Mikey Amphavannasouk discuss the upcoming relic display that will be behind them at a main table in the center of the room. An exhibit of ancient Buddhist relics will be on display Friday at starting 6 p.m. at the Wat Lao Buddharangsy at 3819 E. Service Rd., Ceres.
It's an exciting exhibit, said Chanthavilay Sanouvong, a 47-year-old Ceres resident who teaches children about the Theravada Buddhist faith and Laotian language at the temple.
"It's so very special for the relics to be here," she said. "It's my first time to see them. I believe they bring healing and good luck. They can change the bad in your life to the good."
The relics, which next will travel to Tahoe City on July 8-10, and Sacramento on July 15-17, have been on display around the world for the past two years. The tour is part fund-raiser, with donations going toward the construction of a 500-foot-tall Buddha statue in Kushinagar, Uttar Pradesh, India.
According to a Web site, the statue will sit atop a throne building surrounded by a park and will include temples, exhibition halls, a museum, library, audio- visual theater and hospitality services. There also will be meditation pavilions, water fountains and tranquil pools.
In Ceres, an opening ceremony at 6 p.m. Friday will include a procession, prayers, candlelight and blessings from monks, said the Venerable Bounma Khamvongsod, a 71-year-old monk from Laos who has served at the temple for 25 years. Some of the relics, enclosed in special small display cases, can be placed on the crown of a person's head as a personal blessing.
Seven monks live at the temple, Bounma said. An additional six or seven are expected to come from temples in the surrounding area for the event.
The relics, according to a news release, "were found among the cremation ashes of Buddhist masters. They resemble beautiful, pearl-like crystals. Buddhists believe relics embody the master's spiritual qualities of compassion and wisdom and are deliberately produced by the master at his death."
They have been credited with several miraculous healings, the Web site said.
The relics will surround a life-sized golden statue of the Maitreya Buddha. According to Buddhist scriptures, Maitreya — noted for his loving kindness — will be the next Buddha to bring teachings of kindness to the world.