Buddhist academy aims for growth
by Mary Vorsino, Honolulu Star Advertiser, Jul 14, 2011
The small Nuuanu school has raised $2.8 million from private donors
Honolulu, Hawaii (USA) -- Pacific Buddhist Academy in Nuuanu will publicly launch a $5 million capital campaign Friday as part of the first phase of an expansion plan.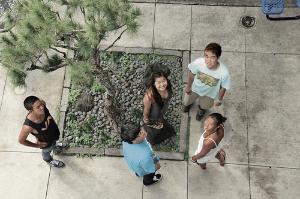 << Pacific Buddhist Academy is kicking off a public fundraising campaign Friday aimed at expanding its campus and doubling enrollment. Sam Sueoka, left, Jarrett Kam, Kayla Suganuma, Connor Emerson and Noelle Chang gathered Tuesday in a campus garden.
The school is looking to double its enrollment to 120 by 2013.
The academy, the only Shin Buddhist college prep school in the country, has approached foundations, corporations and philanthropists over the past year to seek funding for a new six-classroom building. So far, the academy has raised $2.8 million.
Now school officials want to reach out to the public for donations big and small to gather the rest needed for the 25,500-square-foot building, which will also feature a science lab, a multipurpose room and a rooftop garden.
The $5 million price tag includes the cost of state-of-the-art equipment and classroom technology, furniture and fixtures.
Construction is slated to begin in spring 2012 and wrap up in time for the fall 2013 school year.
In the longer term, the school hopes to conduct a second expansion phase, adding another building that would allow enrollment to increase to about 240, said Pieper Toyama, head of school.
He said the second phase probably will cost about $8 million. The school has not yet decided when that phase will begin.
Pacific Buddhist Academy opened in 2003 with 15 students, and bills itself as a unique alternative that emphasizes academics along with Buddhist values and critical thinking.
At the school, in the shadow of the pristine white Honpa Hongwanji Hawaii Betsuin temple, students are required to take all the normal courses —math, science and reading — along with a few nontraditional ones, such as yoga and kendo.
Before they enter a classroom, they must bow, symbolizing their gratitude.
And discipline at the academy is modeled after Buddhist tenets. Students who break rules aren't punished, but counseled or told to meditate as they pull weeds in the school garden.
In more severe cases, therapy is arranged off campus until it is determined that it is safe for a student to return. There is no such thing as expulsion.
"In Buddhism, punishment is not an important concept," Toyama said. "Buddhism is awakening, it's transformation. How do you awaken a teenager? It's about getting them to see, at what point did you make a decision that led you to the principal's office?"
The academy has a 100 percent college-going rate, with students primarily choosing universities in Hawaii and on the West Coast.
Pacific Buddhist Academy
The only Shin Buddhist high school in the United States
Stresses college prep, critical thinking and Buddhist values, including gratitude and humility >> About a third of students at the school are Buddhist. Of those, about half regularly attend Buddhist services.
Opened in August 2003 with 15 students
Current enrollment: 64
Tuition: $10,500
Contact: www.pacificbuddhistacademy.org or 532-2649.