San Joaquin Buddhist temple gets first female leader
By Jennifer Torres, Recordnet.com, July 24, 2011
STOCKTON, CA (USA) -- The hallway that leads to Yukiko Motoyoshi's office at Stockton Buddhist Temple is lined with portraits and snapshots that sketch the history of a congregation formed by Japanese immigrants in 1906.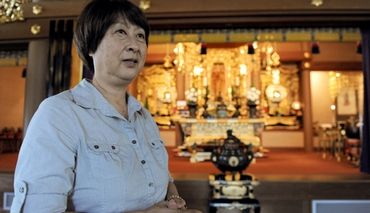 << Yukiko Motoyoshi is the first woman to lead Stockton Buddhist Temple.CALIXTRO ROMIAS/The Record
This month, Motoyoshi became the first woman to lead the temple in its 105 years of existence.
"Being female is a pleasure in the United States," she said this week. "When you are female clergy, the people have an easier time approaching you, I think. They are less guarded. We can bring a gentleness and compassion."
Board members at the temple said Motoyoshi, who was born in Tokyo and who has spent the past 33 years as a Buddhist minister in Hawaii, brings a fresh perspective that will help sustain a long-established congregation.
"She's very down-to-earth, and she's very open-minded, forward-thinking," board member Sam Liang said. "She's progressive. We realized that if we continue doing things the same old ways that we've been doing them, it won't be long before the church ceases to exist."
To continue drawing new members and to remain relevant in their lives, Motoyoshi said, "I think we have to listen to the voice of the youth. The first thing to do is listen."
Motoyoshi moved with her parents to Hawaii when she was 16. She enrolled in high school as a sophomore and spent the next two years learning English. When she went to college, she said, she was not considering a religious life.
"I come from a long line of ministers," she said. "Being a minister's daughter or granddaughter, you live in a fish bowl. I kind of rebelled."
By the time she was finishing a liberal studies degree at University of Hawaii, though, she had changed her mind.
"The Buddhist teachings helped me to define myself clearly," Motoyoshi said. "Plus, I like people."
Her parents were concerned at first, she said, but eventually gave their support.
"Although we have a tradition of female clergy in Buddhism, my parents thought I had chosen a very hard way," she said.
Motoyoshi went on to earn a master's degree in Buddhist studies from University of Wisconsin, Madison, and completed the ordination process in Japan before returning to Hawaii to work alongside her father.
"When I became a minister, all the ministers knew me," she said. "I got protection and guidance from my father and his friends."
Motoyoshi moved to Stockton in June. Her mother is to join her here next month.
"I have this feeling of the country here," she said of Stockton. "The fruits and vegetables are out of this world. The tomatoes are so sweet. The people, they are caring."
This week, amid preparations for the annual Bon Odori celebration, which began Saturday and continues with a cultural bazaar July 30 and 31, Motoyoshi was planning a sermon and said she was looking forward to meeting more temple members.
"I am a part of the lives of others in happiness and sadness, and that's very gratifying," she said. "I'm humbled and I'm truly grateful. I hope that I can make this temple a place for comfort. A spiritual home, and just a fun place to be."