Buddhist center displaces downtown eateries
By Leila Fujimori, Honolulu Star Advertiser, Jul 26, 2011
Honolulu, Hawaii -- News that a popular downtown food court and commercial building at the corner of Queen and Alakea streets will be closed next month for conversion into a Buddhist worship and cultural center has left business owners and residents with a sense of loss.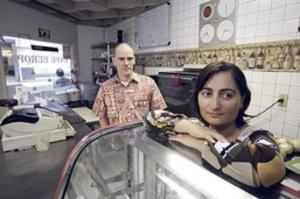 << BRUCE ASATO
Frank and Margarit Lavoie will be closing their restaurant, Kafe Europa, Wednesday.
"It's sad because I have been working in downtown since the late '80s, and this has been here since," said legal secretary Raydeen Delos Santos, who was lunching on an Armenian eggplant dish at Kafe Europa with a friend.
"It'd be a loss for a lot of people," said Delos Santos, one of hundreds of downtown workers who have patronized the eateries at Tardus Financial Plaza in Honolulu's central business district for the past 22 years.
All tenants must vacate by Aug. 31 the building formerly known as Queen's Plaza at 801 Alakea St., home to a dwindling number of small restaurants and other small businesses.
The Hawaii Buddhist Cultural Society, which acquired the two-story building in 2009, will close the building for interior renovation this fall.
Byung "Benny" Noh opened Nippon Restaurant in 1989 at Queen's Plaza when the only other eateries were a Thai restaurant and a Jack in the Box. "Since then we've fed 400 to 500 people every day," he said.
Noh said he received no information on what the new owners had in mind for the building, and that he and other tenants have been frustrated by a lack of communication.
"We tried to contact the landlord but have failed," he said. "That was really tough. Everybody was anxious. We tried to find out if we can go back (after the renovations). … They just told us, 'You have to be out by Aug. 31.'"
Noh said tenants were first given notice in February by American Land Co., which manages the building, but "they said they don't know what the plan is."
He said his restaurant is moving a few blocks away to a space without a kitchen, but said his business luckily has a kitchen in Kalihi.
Noh said other tenants, small mom-and-pop businesses, don't have that luxury, and estimates it will take 10 to 12 months to design and acquire building permits to remodel a small space.
Golden Bowl owner Thomas Dang said he hasn't found a place to relocate his business from the space he's occupied for 14 years. "Everything is so expensive right now, so it's a terrible time for business."
American Land Co. President John Lyles said Buddhist society officials, who are Mandarin speakers, asked him to prepare a written statement in response to questions from the Star-Advertiser.
The society, which belongs to a Buddhist sect originating in Taiwan, says all details of the plan are not final, but include a teahouse, gift shop, stores, society offices, eateries, worship hall and meeting spaces for cultural and community events. The center would host enrichment classes including meditation, yoga, arts, tai chi, language study and vegetarian cooking classes.
"We hope the new center will provide a sanctuary, a peaceful environment in the center of the Honolulu business district, where people can relax, learn, enjoy healthy foods, seek peace and find harmony amid the chaos of their workday world," the Venerable Tze Chuang, Buddhist society official, said in a written statement.
Lyles said the Buddhist society's current center is in Chinatown at the Chinese Cultural Plaza, 100 N. Beretania St., where prayer and dharma services are held, according to its website.
He said the exterior of the building would remain the same and will not resemble a temple.
Tom Smyth, a resident of the Harbor Court condominium just makai of the plaza, said, "That is an odd place to put a community gathering place. There's no parking. … I'm a little surprised a group like that would buy it to fix it up for that purpose."
Smyth, an economic developer, said it is a sign of the economic downturn since government and private businesses have cut workers, so fewer restaurants are needed. He said downtown retail occupancy is down and the vacancy rate is high.
Downtown Neighborhood Board member Anthony Chang said the new use of the building would likely not be a cause for concern among residents since it would not generate much noise.
He said there is a lack of available space in the area and that the society might not have had many options. He noted the general area has a high concentration of Buddhists.
Chang said the business tenants could bring forth their concerns to the neighborhood board.