Sept. 11 Dalai Lama visit may strain Sun Valley services
By JOHN MILLER, Associated Press Writer, April 13, 2005
BOISE, Idaho (USA) -- Sun Valley is used to hosting hundreds of thousands of visitors annually, but a planned Sept. 11 visit by the Dalai Lama could draw 100,000 for one event -- and that has law enforcement and tourism officials scrambling.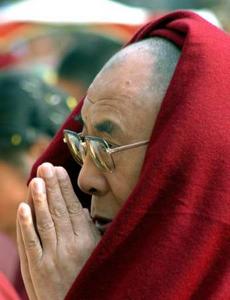 << The Dalai Lama
Details such as visitor housing and security loom large.
The Nobel Peace Prize-winning spiritual leader of Tibetan Buddhists will visit the famous mountain resort community on the fourth anniversary of the terrorist attacks that rocked America.
Walt Femling, the sheriff of rural Blaine County, met visit organizers Wednesday, accompanied by officials including his disaster services coordinator.
"We listened to their presentation and we'll start working with them as the concept of the Dalai Lama coming materializes," Femling said in an interview. He said he fears the event could dominate his officers' time in coming months.
I told them, 'I want a public information officer,"' he said. "This is not my event."
According to a tentative schedule, the Dalai Lama will speak at a land preserve owned by The Nature Conservancy, located south of Sun Valley near the tiny town of Picabo, population 50.
"They will helicopter His Holiness to the site, down the long sliver of valley and high mountains, to this open space filled with thousands of waiting people," according to a statement provided to the Associated Press by the local visitors bureau.
On Sept. 12, he'll meet U.S. business leaders in a private session, followed by an afternoon visit with as many as 12,000 Idaho children.
Finally, on Sept. 13, he is scheduled to bless a Tibetan prayer wheel in a ceremony in nearby Ketchum.
The Buddhist leader lives in exile in India and leads Tibetans who have resisted half a century of Chinese rule. A call to his New York office to discuss why he chose Sun Valley for the Sept. 11 anniversary visit was not immediately returned Wednesday.
"When you are in the presence of His Holiness the Dalai Lama, if you receive information, it can be a life-changing event," said Kiril Sokoloff, an investment adviser and Dalai Lama supporter who is helping organize the visit. Sokoloff, who lives in Ketchum and Boca Raton, Fla., spoke by telephone from Florida.
"Because it's at 6,000 feet above sea level, the message can resonate all over the globe," said Sokoloff, who two years ago brought the Dalai Lama's sister, Jetsun Pama, to Sun Valley for a benefit for Tibetan school kids. "There won't be any of the other energy interfering with his message."
It isn't energy Sheriff Femling is concerned with.
It's people -- arriving via a single, winding two-lane road that leads northward from the southern Idaho desert into the rugged Sawtooth Mountains.
Event planners include Renee Klein, who worked with the 2002 Salt Lake City Winter Olympics organizing committee. She says shuttle buses will be needed, to help ferry visitors staying in accommodations as far away as Boise and Salt Lake City.
The Sun Valley area, made famous by celebrities including Ernest Hemingway and actor Gary Cooper -- and now Tom Hanks and Jamie Lee Curtis -- has hotel and condominium space for just 5,700 people, tourism officials said.
"The minute we heard about it (the Dalai Lama's visit), we did alert all our members," said Ellen Gillespie, a spokeswoman for the Sun Valley Ketchum Chamber and Visitors Bureau. "We told them, 'We're going to have a lot of people in town.' We need to make sure they don't have anybody go on vacation that week."