Fresh Young Buddhist Teacher Kalu Rinpoche to Speak in Santa Monica
by Dr. Nalini Chilkov, The Huffington Post, Sept 13, 2011
Santa Monica, CA (USA) -- What if our education emphasized cultivating compassion, caring, open heartedness, ethics, insight and wisdom? What kind of person might we become if kindness and generosity were part of our daily lessons?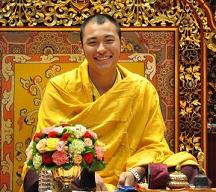 What if we not only studied math and reading, science and literature, but also developed altruism throughout our school years? Who might we become? What kind of world would we co-create?
If you want to meet such a remarkable person, come listen to Kalu Rinpoche on Sunday evening October 2nd in Santa Monica.
Here is a fresh, bright young Buddhist teacher on his first visit to North America. He is warm, engaging, wise, tender and very personal. He can guide us into a clear inner stillness one moment and fill the room with laughter the next. He is compelling. If you want to be deeply touched and leave the room not quite the same as when you arrived, don't miss this opportunity to hear him speak.
Kalu Rinpoche is uncommonly filled with insight and wisdom for such a young teacher. He is warm, accessible and engaging and easily reveals his palpably tender heart. He is able to speak articulately about grief, sorrow and loss. He shares his reflections on love and loneliness and what it means to be fully human. He is not shy about his own quest for an authentic life, a spiritual life that is not at odds with our modern world.
While caring deeply for the sacred spiritual traditions of Tibetan Buddhism, he strips away cultural trappings that separate us from the valuable pith and essence that is at its very core. Kalu Rinpoche is as literate in Buddhist scholarship and scripture as he is with the Internet. He communicates with people all over the world through his Facebook page as a "spiritual friend", not wishing to create separation between himself and others. He has his own website, paldenshangpa.net which is a place for community and sharing. He is the new fresh face of a contemporary spiritual teacher. No pomp and circumstance. A real person.
Kalu Rinpoche talks about how to live with an awakened heart, how to live with clarity and joy and the true freedom that comes from within when we cultivate our own full humanity.
It is rare to hear a 21 year old have so much to say about living a genuine, spiritual, caring life in the midst of a materialistic and often superficial modern world full of distractions.
He shows us how to pay attention to what really matters.
This will be his last public talk culminating a two month tour of North America.
When: Sunday Evening October 2nd 7pm-9pm
Where: The Church at 1227 Fourth Street between Wilshire & Arizona in Santa Monica
Ample Parking across the street
How: Tickets http://kalurinpochela.org/register (This event will sell out)
Why: Touch the Tender Heart of Your Own Awakening