Celebrating kindness, compassion
By Alex Breitler, RecordNet, October 16, 2011
Dedication of Buddhist temple garden draws several hundred
Stockton, California (USA) -- Just off Fremont Street in east Stockton, where cars and buses zoom by and everyday life never stops, an 18-foot statue has been erected in a new garden symbolizing peace and compassion.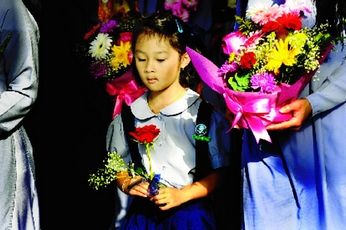 << A young girl carries a flower during the procession at the temple, which has more than 500 members.MICHAEL McCOLLUM/The Record
On Saturday, perhaps 1,000 Vietnamese Buddhists - including monks and nuns from across the country - gathered to dedicate the garden and bow before the enormous limestone statue of Quan Yin, revered as a being of infinite compassion.
Until now, passersby on Fremont Street could be excused for not knowing there is a Buddhist temple and monastery along the busy street.
But sure enough, Quang Nghiem Pagoda has existed since 1984. And it's grown from 25 members to more than 500.
It is a place to meditate, celebrate and share Buddhist teachings.
And the garden will figure prominently in that.
"It's absolutely beautiful - it's exquisite," said Quang Tu, a representative for pagoda master Thich Minh Dat.
"It revolves around the idea that we need more loving kindness in the world. And more open minds and acceptance of other people's views," he said. "It's just a place of peace and tranquility."
The 37-ton statue was carved in Vietnam and then shipped across the Pacific Ocean, he said. It stands as a cornerstone in the new garden, which has trees and shrubs, a koi pond and a new building similar to a tiered pagoda.
A concrete railing around the building was carved out by the monks themselves, who conceived the design of the garden, said Stockton architect Tim Mattheis.
Hours after the dedication ceremony ended, Lance Phan, 42, was still admiring the head of a dragon carved into the railing.
"All of these were handcrafted," he said. "I was pretty amazed how they built this - each one of these scales."
Dragon dancers led a procession into the garden as firecrackers popped. The monks, wearing brown robes, entered single-file.
People crowded into the small area to listen to them speak during a ceremony that primarily was in Vietnamese.
The monks sang, also, until it was time to recess to a covered area where plates of steaming rice and vegetables were handed out to the crowd.
Throughout the afternoon, people came before the statue of Quan Yin, lit incense and bowed until their foreheads touched the ground. Small children and stooped old men all stopped before her, clasping their hands as if in prayer, before finally going home.