Buddhist religion cultivates inner peace, compassion
by Josh Naquin, The Daily Reveille, October 24, 2011
Faith employs healing meditations
Baton Rouge, CA (USA) -- Assume the lotus position, focus on breathing deeply, acknowledge thoughts as they present themselves, then let them go as you drift toward inner peace.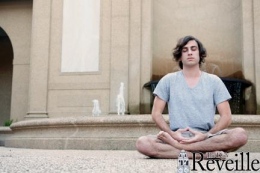 << BLAIR LOCKHART / The Daily Reveille
Practicing Buddhist and English literature senior Zach Jenkins meditates Oct. 6 in front of Dodson Auditorium fountain.
This is what Zach Jenkins, practicing Buddhist and English literature senior, does several times a week to meditate.
"Buddhism helps me maintain an aura of positive energy," Jenkins said.
Jenkins first became interested in Buddhism a year ago when working at Teavana, a national chain of tea shops. One day, a customer sparked a conversation with him about a Buddha-shaped teapot and a discussion about Buddhism ensued.
"I had always been interested in Eastern religions, so I went to check out the Buddhist Temple in town," Jenkins said.
Buddhism is a tradition established in fifth century B.C. in India, said Paula Arai, associate professor of Asian religions.
"It was based on the teachings of Shakyamuni, a prince who asked questions on how to experience liberation and peace while knowing people suffer," Arai said.
She said Buddhism differs from other religions because it provides a path for followers to break the cycle of suffering, which is caused by three poisons – delusion, greed and hatred.
To be liberated from suffering, one needs to dissolve the three poisons, she said. Afterward, the person is left with the freedom to be compassionate.
"There are many kinds of meditation," Arai said. "All are effective tools to remedy the poisons of suffering."
Jenkins practices Zen Buddhism, a school of thought within Mahayana, the most popular of the three branches of Buddhism.
"The point is to focus on the here and now. With each new breath, new life enters you," Jenkins said.
The Buddhist said he likes how his religion is "really free" and does not condemn the tenets of other religions. Jenkins was born into a family that practices Catholicism, and he said his mother and friends are supportive of his religion.
"My father is a staunch Catholic," Jenkins said. "I consider our talks about religion as discussions of growth."
Arai said she has noted a high proportion of Buddhist converts come from a Catholic background. She said Buddhism is similar to Catholicism because they both involve daily rituals, and they both engage the body and mind.
Jenkins said the philosophy behind Zen Buddhism has helped him maintain mindfulness in his life.
"It helps me move past mistakes without lingering too much on the past," Jenkins said.
Jenkins said he always sees a variety of people when he visits the Tam Bao Temple on Monterrey Boulevard. There are people from all walks of life at the temple, from 40-year veterans to people just getting started, he said.
Thich Dao Quang, Abbot at the Tam Bao Temple, said attendance at his temple has increased since he began working there in 2003.
"Friday nights we have a meditation group of 65 to 70 people. Many are young people," Quang said.
He said many people visit the temple on Friday nights because the meditation and open discussion service are spoken in English, rather than Quang's native Vietnamese. Tam Bao Temple holds its English service every Friday at 7:30 p.m.
"There is tons you can learn from Buddhism; it helps develop skills which transcend all religions," Jenkins said.