Sri Lanka: Christian Fundamentalists Against Unethical Conversions Bill
Asiantribune.com, 17 April, 2005
Washington D.C., USA -- A common front of organized Christian fundamentalists are rallying their forces internationally to block the Freedom of Religion Bill placed before the Sri Lankan parliament to prevent unethical conversions.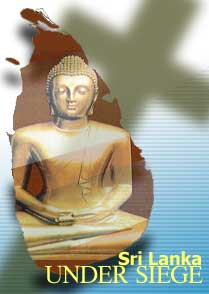 First, the World Evangelical Alliance (WEA) hosted a special meeting at the United Nations Commission on Human Rights in Geneva last week highlighting, what they termed as, ?religious persecution in Sri Lanka? and to ?focus on anti-conversion legislation?.
Second, on the other side of the Atlantic, the Institute on Religion and Public Policy organized a ?Roundtable? with Sri Lanka?s Ambassador to the US, Bernard A.B. Goonetilleke in Capitol Hill, Washington, on April 12, 2005. This ?Roundtable with the Ambassador? was to discuss the proposed anti-conversion bill. It is a monthly forum attended by Administration officials, Congressional aides, NGOs, academics, the media and concerned members of the public provides an opportunity for honest and open discussion regarding the civil, political, religious and human rights environment in countries represented by the Ambassadors.
Both were moves by Christian nations to impose their will on Sri Lankan parliamentarians through not-so-subtle pressure. The tone of these meetings was set by Janet Epp Buckingham, Director of Law and Public Policy of the Evangelical Fellowship of Canada, who said that meetings such as the one on 5th April at the UN was to ?let the Sri Lankan government know that the world is watching their treatment of religious minorities.\" (WEA press release, April 11, 2005).
Observers interpreted these moves and statements as neo-colonialism marching into the developing countries in religious robes. The high moral tone of these evangelists comes from Christian countries which massacred each other in European countries for centuries on purely religious issues. Besides, these are descendants of Christians who converted the natives in Americas, Africa and Asia with brute force.
Now they take the high moral ground to dictate to Sri Lanka, for instance, which never fought religious wars like Christian countries, how it should legislate on religious affairs. Unlike the use of barbaric violence to convert unarmed civilians occupied by Christian imperialists, the Sri Lankan parliamentarians have been given the right to vote on this bill based purely on their free will, without any coercion from the government or any party dictating a political line.
Ambassador Goonetilleke in his opening remarks noted that Sri Lanka being an island nation has throughout its history, interacted with visitors from different regions of the world and from all religious and ethnic persuasions. The people of Sri Lanka welcomed American missionaries to the island as early as 1813. Among the well known American missionaries and educators who served the country at that time were Rev. Samuel Newell, Rev. Edward Warren and Rev. Dr. Danniel Poor. Religious freedom is a deep-rooted value cherished by all Sri Lankans.
Pointing out that the phenomenon of unethical conversion was a real issue in Sri Lanka and particularly segments of the poor said to be vulnerable to this, Ambassador Goonetilleke said the rapid increase in conversions in recent times had been noticeable.
Even Catholic, Protestant and Hindu religious organizations had been apprehensive of this practice as it created new social tensions where none existed before, leading to local disturbances. In more recent times, the issue had also become highly politicized. All the Sri Lanka Government is trying to do is to address this issue in a manner that avoids it from spiraling out of control, leading to greater social unrest and religious disharmony. Such challenges are not unique to Sri Lanka. Even in other countries, governments and legislatures are often called upon to take preventive action in the face of similar developments.
The Government of Sri Lanka has made clear that the draft ?Freedom of Religion Bill? is neither directed against any religion nor does it seek to promote a particular religion. The Bill has not yet been gazetted. When introduced in the Sri Lanka Parliament, any citizen or organization has the freedom to challenge it in terms of Article 121(1) of the Constitution by invoking the constitutional jurisdiction of the Supreme Court, for a determination in terms of Article 123 of the Constitution of Sri Lanka.
The Ambassador noted that following petitions filed by civil society, a previous Bill entitled, ?Prohibition of Forcible Conversion of Religion?, introduced as a private member?s bill in Parliament was not proceeded with in the Parliament of Sri Lanka in 2004, consequent to the decision of the Supreme Court, where it was held that provisions of the Bill were unconstitutional. In drafting the Freedom of Religion Bill, concerns expressed by the Supreme Court with regard to the previous private member?s Bill have been taken into consideration and addressed. It is still in draft form and amenable to change. In the event, the present Bill is debated in Parliament, it will be subject to a ?conscience vote? enabling Members of Parliament representing the Government as well as those in the Opposition to vote according to their individual conscience irrespective of their political affiliations. Recently the Prime Minister has reconfirmed the desire of the Government to allow Members of Parliament to vote according to their conscience.
At question time, the participants at the roundtable while appreciating the candor with which the Ambassador had chosen to take the issue head-on, expressed reservations about the path Sri Lanka proposed to take on this issue and the possible ramifications that might result from such action. There was concern that those organizations likely to be affected, were not consulted and the base broadened in the process of drafting the bill. It was felt that this might have helped avoid at least some of the issues that arise from it.
Questions were raised as to whether there were aspects in it that were inconsistent with Sri Lanka?s international obligations and whether adopting it in its present form could result in affecting the foreign assistance given to Sri Lanka. Noting that a bulk of the tsunami aid that came to Sri Lanka was from faith-based groups, it was also observed that if passed, even with adjustments, this law would severely curtail the potential aid available from church groups belonging to the different denominations and could have a ?chilling effect? on NGOs operating in Sri Lanka, across all developmental sectors. It was also felt that the tension that had been caused by this issue had led to a spate of attacks on churches in recent times and there was fear that this might escalate.
Responding to these issues raised, Ambassador Goonetilleke observed that what is available at present is a draft bill. This is bound to be subject to further change as it moves through the law making process, including the consideration of its constitutionality by the Supreme Court of Sri Lanka prior to being debated in Parliament.
Religious freedom is enshrined in the Constitution of Sri Lanka and bills inconsistent with the Constitution will not be approved by the Parliament and the Constitutional procedures applicable in Sri Lanka, provide sufficient and effective safeguards against possible abuse of the provisions of the draft Bill. These will be done consistent with Sri Lanka?s international obligations. He said the spate of attacks on churches in the early part of 2004 had clearly preceded the attempt to legislate on this issue. They were acts by a small politically motivated radical group. The President took a personal interest in putting an end to the wave of incidents that were occurring at the time. Following the arrest of members of the group, while traveling to attack a church in Kebitigollawa 180 KM from Cololmbo, the pattern of organized attacks has clearly been stemmed, although a number of sporadic incidents took place subsequently.
Ambassador Goonetilleke also noted that the need to enact legislation concerning unethical conversions had arisen well before the tsunami struck Sri Lanka in late December 2004. There was no connection between the proposed anti-conversion legislation and the increase of faith based social service NGOs following the tsunami. Their work was deeply appreciated by all Sri Lankans and there was no reason to believe that work of faith based groups engaged in such development work would be affected in any way due to the proposed bill. They may have fears, but they cannot be justified on an objective basis, said Ambassador Goonetilleke.