Buddhist group offers path to inner peace at historic Azusa mansion
by J.D. Velasco, San Gabriel Valley Tribune, Jan 28, 2012
AZUSA, CA (USA) -- Smack dab in the middle of the Rosedale housing project is a mansion with a colorful history and surprising modern-day use.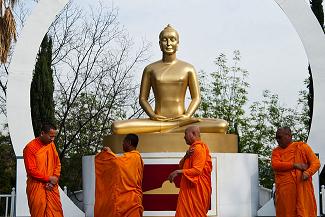 << From left, Phra Air Thaniyo, Venerable Phra Kruvites Ponyapone, VIce Abbott Phra Vichak Suddhiraro, and Phra Pepper Thanajaro stand before a Buddha statue at Dhammakaya International Meditation Center in Azusa on Friday, Jan. 20, 2012. The center offers meditation, yoga, and Thai language classes as well worship services. (Watchara Phomicinda/Staff Photographer)
The MacNeil House, as it is known, was built in 1932 by Louise Slauson MacNeil - the daughter of influential land developer and Azusa founder Jonathan Sayre Slauson.
MacNeil's sister, Kate Vosburg, lived next door in a house now used as the headquarters of the Monrovia Nursery. Though they were neighbors, the sisters notoriously did not get along, according to Jeffrey Cornejo, president of the Azusa Historical Society and Chairman of the city's Historical and Cultural Landmark Commission.
"No one knows why, it's a secret they took to the grave," he said.
Palm Drive, which leads up to the homes, is divided by a median because it originally existed as two parallel driveways - one for each sister - so they would never have to run into each other.
With such turmoil and discord woven into its history, it is perhaps appropriate that the home is now occupied by a religious group dedicated to helping mankind find inner peace.
Since the mid-90s, the home and its grounds have been owned and used as a meditation center by the Dhammakaya Movement - a Buddhist group based in Thailand that puts a special emphasis on the importance of
Advertisement
meditation for those seeking a path toward enlightenment.
Sophon Ruennakarn, a spokesman for the center, said the movement established its first California location in Cerritos in 1992. As its congregation grew, the center relocated to a larger facility in Maywood. Later, they rented out a building behind the MacNeil house.
Finding that the property had everything they needed - several small cabins, a dining hall, and a chapel, all of which were built when the property was used as a Jesuit retreat - the group purchased the home from the Monrovia Nursery.
"When we came here, we didn't need to build anything," Ruennakarn said. "We could use it as it is."
Though the property doesn't look like the typical Buddhist facility, because it suited their needs so well, much of the property remains as it was before the group moved in. They have made some changes, the most obvious being the installation of an enormous golden-colored Buddha statue overlooking the front drive.
Ruennakarn said the statue is identical to the one located in the group's headquarter temple in Thailand.
They have also planted a rose garden near what used to be the home's swimming pool and maintain "hidden gardens" on a hillside in front of the home. The gardens, a collection of trees and shrubs, are accessed by way of winding pathways. Along the paths are benches that visitors are encouraged to rest on while they meditate.
Eight monks live at the center, with three to five of them serving on long-term duty there.
On Sunday, the center will offer a one-day meditation retreat from 9 a.m. to 3 p.m. The event will include yoga, meditation lessons, relaxation exercises, lunch and a group picture. The class is free, but a $20 donation is suggested.
Sunday school for children ages 6 to 13 is also offered, as well as classes on the Thai language.
The facility, 865 E. Monrovia Place, is open to visitors daily from 9:30 a.m. to 5 p.m.
For more information on rules for visiting, which include conservative dress and no smoking or pets, visit www.dimc.net or call 626-334-8045.