Buddhist festival shows off flowers, drums
By ROB O'DELL, North County Times Staff Writer, April 23, 2005
Vista, CA (USA) -- On Saturday, the birthday flowers were for Buddha. The Vista Buddhist Temple and the Japanese Cultural Center held their annual Hanamatsuri Baazar in Vista to celebrate the Buddha's birth more than 2,500 years ago.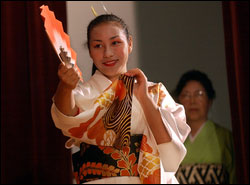 << Aichan Takahashi, 11, performs Japanese folk dancing with the Genchi Minyo Ki Ku Ta-Kai dance group during the Annual `Hanamatsuri` Bazaar at the Vista Buddhist Temple and Japanese Cultural Center Saturday.
The festival featured food, arts and crafts, and most of all flowers. It also featured a Taiko drumming show, a very powerful and moving performance that many considered the highlight of the festival.
Atsuku Taylor, a participant in the Taiko show, said the drumming is very spiritual experience that helps her meditate.
"To me, drumming is exercise, a hobby and meditation," Taylor said. "It has really helped me through (tough times). It's really powerful."
Hanamatsuri is the flower festival, and it was held this year to celebrate the 2,568th commemoration of Buddha's birthday, according to the temple's Web site. Buddha was born on April 8, 563 B.C. near the southern border of present-day Nepal, the site states.
Kayo Beach, an artist who has attended the festival for 20 years and donates a portion of her proceeds from art sales to the temple and the cultural center, said the flower festival is very special for Buddhists. She holds weekly art classes at the cultural center and was selling some of her students' art at the festival.
Felice Simmonds said she came to the festival because of her 10-year-old son's keen interest in Japan and Japanese culture.
"Of all the cultures I've read about, I like Japan the best," Tanner Simmonds said.
Tanner said the festival was such as "living all the things I read about." He said he enjoyed the food.
Sally Yasukochi, who is also involved in the drum festival, said one of her favorite things about the festival was the sense of community and being with family and friends.
Taylor agreed, and said she didn't have family in the area, but said the festival makes her feel like she is with family.