Buddhists anticipate flower festival in honor of Buddha's birth
By JaNae Francis, Standard-Examiner staff, Apr 13, 2012
Ogden, Utah (USA) -- Members of the Ogden Buddhist Church, 155 North St., are inviting the public to celebrate with them, at 10 a.m. Sunday, the birth of the Buddha, in their annual Hanamatsuri service.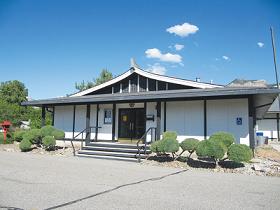 "It's the biggest celebration of the year for our Buddhist community," said Mike Monson, a minister's assistant at the church. "We dress up our chapel and our children and so forth, and they all participate in a traditional ceremony recognizing the importance that the Buddha has in our lives."
Literally "flower festival," Hanamatsuri commemorates the birth of Siddhartha Gautama.
Siddhartha became enlightened as Sakyamuni Buddha.
According to Buddhist tradition, the birth marked the release of sentient beings from suffering and sorrow.
Sakyamuni, it is said, was born in Lumbini Garden in Nepal on April 8, 566 B.C.
He was born the son of King Suddhodana and Queen Maya. There are many descriptions of the scene at his birth, including celestial birds singing beautiful songs, beautiful flowers, and a sweet, gentle rain bathing the baby Buddha.
Monson said the Ogden church decorates with beautiful flower displays that are symbolic of the myth and location of the Buddha's birth."When the Buddha was born, it is said that the whole area came in bloom,"
Monson said. "To which I say, if it didn't, it probably should have."
"We have five special services each year," said Annette Koga, also a minister's assistant at the church. "This one is very significant."
Koga said unlike other celebrations that vary by different Buddhist sects, this celebration is the same for all of them.
"This is a very good one for the public to come to," she said. "You are getting general information about Buddhism."
And this celebration, she said, is very colorful.
A saying the church uses in describing itself is: "No one saves us but ourselves. No one can and no one may. We ourselves must walk the path."
The saying is a quote from Buddha.
For more information, call the church at 801-392-7132.