Buddhists hope to build facility on former landfill site
by Reed Jackson, Daily Journal of Commerce, April 20, 2012
Portland, Oregon (USA) -- For years, Siskiyou Square, a 27-acre site at Northeast 82nd Avenue and Siskiyou Street, has languished as one of the largest undeveloped land parcels in Portland.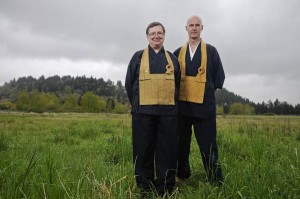 << Gyokuko Carlson, left, an abbot with the Dharma Rain Zen Center, and Kakumyo Lowe-Charde, its development director, stand on a Northeast Portland site where the organization is hoping to build a facility. (Photo by Sam Tenney/DJC)
Developers resisted its potential because parts of the former landfill site are seismically unstable, and a methane distribution pipeline lies underground. In 2006, a Canadian real estate firm proposed to build a big-box store, but residents thwarted the bid when they discovered it might be a Walmart.
But the Dharma Rain Zen Center, a Soto Zen Buddhist organization running out of space in Southeast Portland, is looking to build a new facility on 13 acres of the square. Members of the organization said a proposed light footprint would suit the site and that the development would be better than a larger one because water runoff and trees could be preserved.
"It's not a simple piece of land to work with, but we are thrilled to find it," said Sallie Jiko Tisdale, a teacher at the center and a member of its development committee. "Buddhists believe how they live today affects tomorrow, so we practice a kind of carefulness of how we behave. In that, how we build and how we live on that land is going to be a direct religious expression."
Preliminary designs for the project, which will go before the Bureau of Development Services during a pre-application conference early next month, show that the new facility would include a temple, a large vegetable garden, a playground for children and multiple residential units. All of the single-level buildings would be composed of wood.
Kakumyo Lowe-Charde, the organization's development director, said the buildings could be constructed more easily and for less money than larger ones because of small foundations.
"The bigger the building, the more expensive the foundation is necessary to hold it in place as the land settles around it," Lowe-Charde said. "We are going to have really light buildings, and we can do a much simpler foundation that adapts to the landfill that doesn't necessitate putting 80-foot piles through the solid rock below."
To meet environmental quality standards, gas barriers would be installed below the buildings to prevent methane from reaching interiors. Additionally, perforated horizontal pipes would be placed beneath the buildings to ventilate accumulated gas and prevent gas pressures from elevating.
Seismic instability, however, is a real hindrance, Tisdale said.
"You can only do certain kinds of construction on the property and you can only put weight on certain parts of the property; it limits the kind of building that can be done," she said. "People get scared from something like methane pumps, but if you know what you're doing and go through 30 years of (U.S. Environmental Agency) reports like we are, everything should be green-lighted."
Tisdale added that the organization would try to preserve the open green spaces of the square, which is near Rocky Butte.
"We really like the land as it is in its native state and space," she said. "We believe we are not separated or disconnected from our environment or each other."
The center has engaged in multiple meetings with neighborhood groups. The South Madison Neighborhood Association, which opposed the big-box store proposal in 2006, believes the project will be a positive contribution to the area.
"The vision they have would blend nicely with that piece of land," said Dave Smith, the association's chairman. "Putting in low buildings, plantings and walkways would be a more positive use than the proposed previous use for it."
Both Tisdale and Lowe-Charde said the center's existing facilities, on Southeast Madison Street between 25th and 26th avenues, are too small. They believe the proposed project would provide the appropriate amount of space for the center's diverse set of programs – ranging from seminary training to children's classes. The square also would provide space for residential units, so that the center's members could live closely together.
"We have all this energy and we've been waiting for a space to put it in," Lowe-Charde said. "This gives us room to continue growing and diversifying."
If the $3 million to $4 million project were approved by the city, Lowe-Charde said it would be broken down into phases, with construction starting in summer 2014. He also believes more development would occur after its completion.